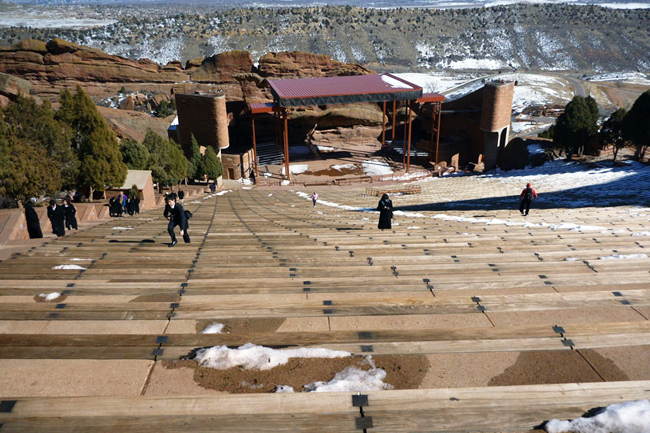 Tour Flashback: Breathless in the Boulders
After the curtain closed on our last show in Buffalo, everyone broke into a cheer. We'd completed another tour. Now I have time to look back and reminiscence about the highlights of traveling up, down, and all over the United States. One memory that sticks out is a breathless afternoon in Colorado.
A long drive took us straight from St. Louis to Denver. Between performances, we took a trip to the mountains to enjoy the scenery. After parking, we had to climb on foot to reach our destination. No sweat. Being dancers, we get tons of exercise. This would be a piece of cake.
But there's a funny fact about Colorado. The area we visited is part of the Rocky Mountains, standing around one mile (or over 5,000 feet, or 1,600 meters) above sea level. Earlier, fellow blogger Rachael noted the negative correlation between oxygen levels and elevation. It was partly mental, but every step I took seemed to leave me out. Of. Breath.
Whew.
Eventually we reached our destination:
At first sight, it's just a bunch of gargantuan boulders surrounding an outdoor stage. But sometime in history, somebody must have stopped by and been inspired to sing, because this someone discovered some excellent acoustics.
Think of the ancient outdoor theaters in Greece, where actors unplugged voices reached an audience of thousands. This is the same thing—just created by nature's genius—so only a stage and seats were needed to complete the scene.
The amphitheater holds regular concerts during the summer. Since we went in late February, only a few tourists were present. That didn't stop our singers from taking their turn in the sunny spotlight. We cheered them on. It's no small feat climbing a mountain, then singing at the top of your lungs. In fact, I remember hearing that one of our singers used to train that way back in China.
Later, I found our driver had driven our bus to an upper parking lot, so as to be closer to the amphitheater. Technically closer, that is. We now definitely had to climb our way to the top audience seats before reaching the bus.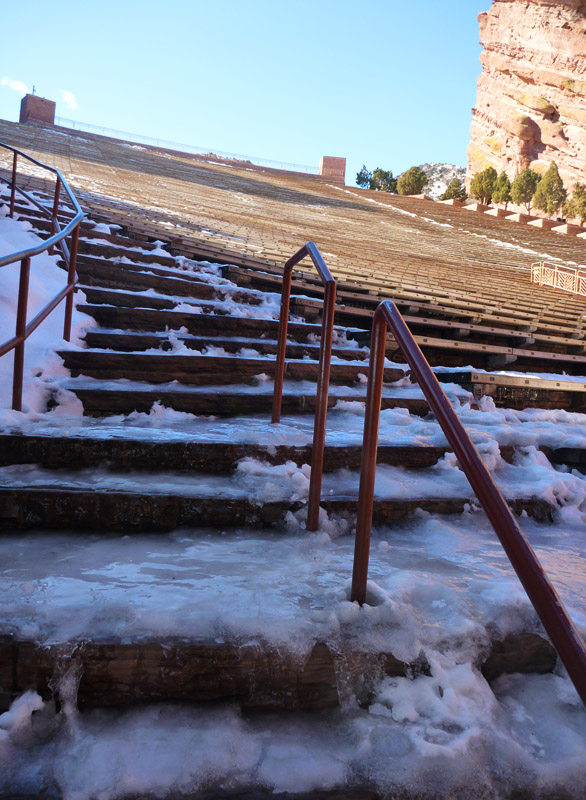 I looked at the stairs. They looked at me. They were encrusted with a thick layer of ice.
I looked at the audience seats. Rows and rows of wooden benches stretched upward as far as I could see. I tried counting the rows: one, two three... twenty-four, twenty-five, twenty-six... thirty seven, thirty-eight... and on and on and on.
Taking a deep breath, I started scaling the benches in my boots. Sideways, mind you, as I had a skirt on beneath my jacket. The wind picked up as I ascended, its howls and screams filling my ears with single-minded force. I clapped my hands over my ears in protest. Really, Mother Nature's sopranos needed a lot more training.
I was halfway up (and proud of it, too!) before seeing that everyone else had taken the nice, normal, non-icy stairs on the opposite side of the theater.
Oh. That would have been another option.
Well, what's life without occasionally taking the steps less traveled? In the end, it made no difference—everyone reached the top equally winded and paused to enjoy the panorama of stone, snow, and sky before the gale forced us onto the bus.
Sorry wind, but no encore for you.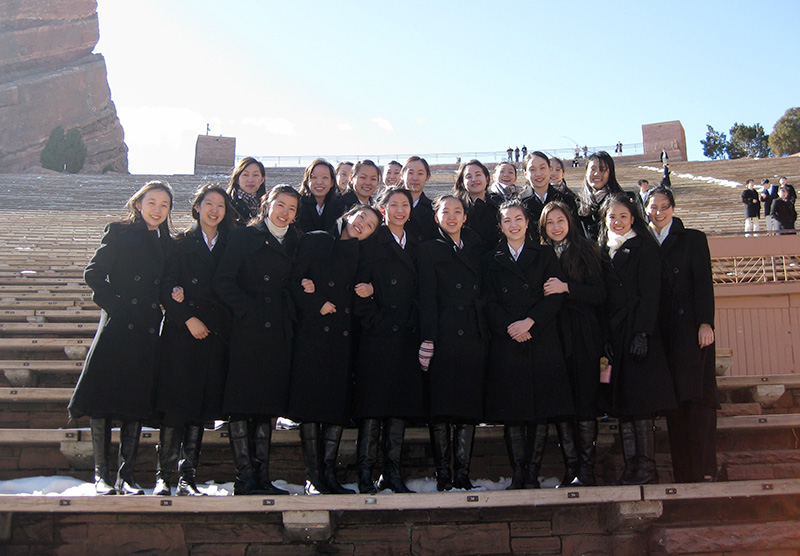 Jade Zhan
Contributing writer
2012年7月27日