Chinese Idiom: 'Paint the Dragon, Dot the Eyes'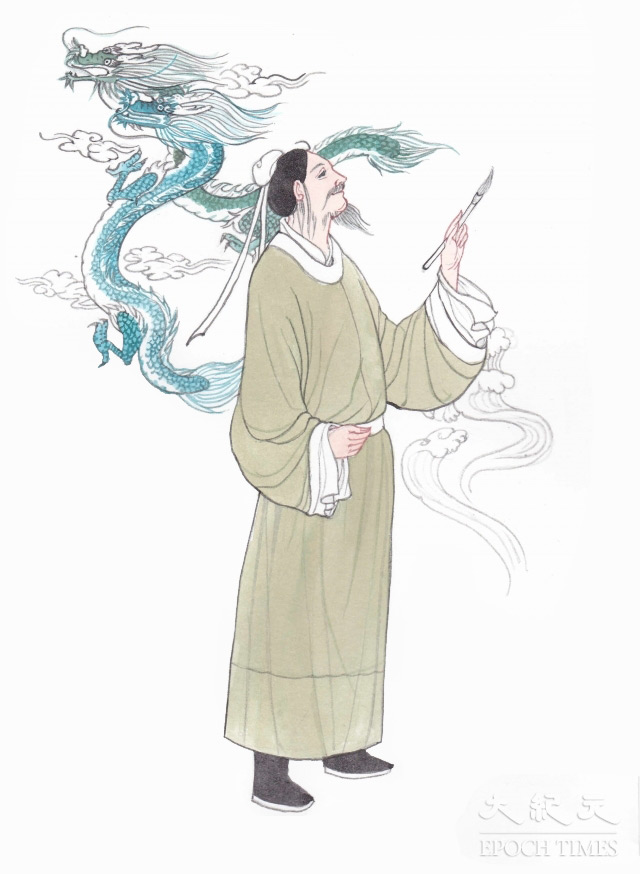 We've all heard of the likes of Michelangelo and Da Vinci, but China too had its share of artistic talent over the ages. And, like many things passed down from Chinese antiquity, there's oftentimes that intriguing hint of the divine.
Today, we delve into a Chinese idiom, "Paint the dragon, dot the eyes."
Back during the Southern Liang Dynasty (502–557 C.E.) lived a painter named Zhang Sengyao who was known for his incredible lifelike paintings. In Health Record, author Xu Hao recorded the story of the "Autu Temple," one of Zhang's works.
The Zhaoling Prince of Liang Dynasty was visiting the Yicheng Temple just outside of Nanjing City, when he noticed a three-dimensional floral motif on the gate painted by Zhang. The flowers were in different shades of red and green. From afar, they looked three-dimensional, yet up close they were flat.
The prince was so impressed that he nicknamed the temple after the technique Zhang used.
But the most famous story of Zhang was recorded in The Volumes of Classic Paintings. A devout Buddhist, Zhang was one day commissioned to paint four dragons on a wall of Anle Temple.
And thus the story of Zhang's flyaway artwork begins.
As Zhang diligently got to work on his masterpiece, curious onlookers admired his prowess. By the time Zhang finished, the onlookers couldn't help but notice that he had missed something pretty obvious—the dragons' eyes.
No, Zhang was not negligent—he did this on purpose. "The eyes are the spirit of the dragon," he explained. "The other parts are just the form. Once you add the eyes, you are giving it life force, and it will fly away."
Even in ancient China, a land of magic and miracles, the bystanders found this just a tad farfetched. Sure, Zhang's painting was lifelike, but they weren't buying this whole "flyaway painting" business.
So, with four dabs of his ink brush, Zhang dotted the eyes, giving pupils to two of the dragons. At this, a lightening bolt suddenly struck the wall where the dragons were painted.
The two flew out of the wall, soared into the sky, and disappeared in the distance. The other two pupil-less dragons remained as paintings on the wall.
This story is the source of the idiom, "paint the dragon, dot the eyes" (画龙点睛, huà lóng diǎn jīng). It means adding the finishing touches to something already very good, achieving perfection.