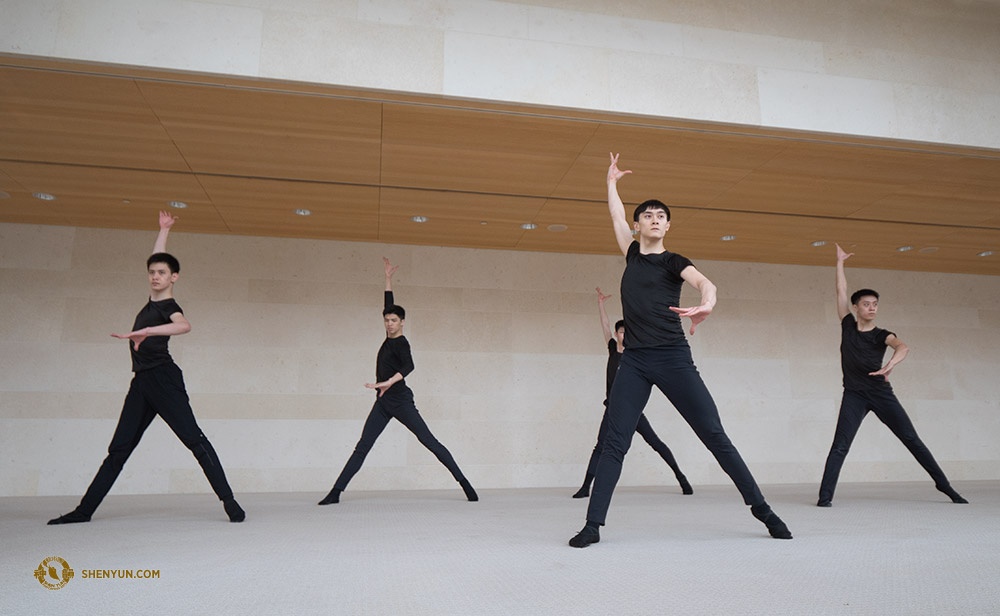 On Tour Daily Diary
One post a day from every day on tour. Is there that much to write about? We'll have to find out. Please leave a comment at the bottom. Hope you enjoy!
Dec 25 - Let's hit the Road!

Merry Christmas and Happy Hanukkah! Today's also our big day - this morning we said goodbye to our families, loaded five months' worth of stuff on to the buses, and hit the road. It's a beautiful Christmas morning, blue skies and just lovely to be outside, or on the bus. Opening night tomorrow - can't wait!

Dec 26 - Opening Night

In a few hours this theater will be full of people and energy and excitement and dance and music and color. First setup on tour here at National Arts Centre in Ottawa and I've already learned something new - a Canadian theater use for a curling broom... They use it to tape down the Marley dance floor.

Dec 27 - Season Premiere Recap

First show was terrific! Always good to get underway and be back facing the audience day after day. The audience here in Ottawa especially loved a couple of the funny storylines and some of the surprises in the animated projection, as well as our soprano, Jiang Min. Just all around a great way to start tour. Heading to the theater now for a matinee.

Dec 28 - Between Two Shows

Our first two-show day of the year. We're now between shows, and at this time performers can be divided into two groups: those who first nap, then meditate; and those who first meditate, then nap.

Dec 29 - It's a Bit of a Stretch

Just arrived in Hamilton after a rainy drive across Ontario. What do Shen Yun dancers do as soon as they get to their hotel after hours on the bus? Grab whatever furniture they can find, and stretch.

Dec 30 - View From the Pit

A new day in a new theater, well theatre here: FirstOntario Concert Hall in Hamilton. At every new venue in addition to setup and sound check, the orchestra rehearses with the dancers. Conductor Milen Nachev is keeping a close eye on both the orchestra and the action he has to match on stage.

Dec 31 - Happy New Year Video


New Year's Eve... and we just finished a matinee performance in Hamilton, Ontario. It's a Shen Yun tradition that all performers participate in striking after a performance - taking down the stage, packing the costumes and gear, and loading the truck. It allows us to wrap up quickly and be super-mobile, hitting more cities on tour. It also keeps everyone, even the biggest stars, humble.

Today's strike feels extra festive. After all, we just completed the last show of the year. Soon the performers will be on their phones calling family back home and friends in other groups around the world. But first, they have a message for you in the video: Happy New Year! May you and yours have a wonderful, safe, and meaningful 2020!

Jan 1 - Two MCs, Three Languages in Montreal

Just arrived in beautiful Montreal. A bit of snow flurries on the way, but overall we've had excellent weather for a Canadian winter so far.

Whenever we switch cities and venues, it can actually affect quite a bit. A difference of a few feet in the width of the stage can alter dance formations. The size and shape of an orchestra pit impacts how musicians hear each other.

For MCs, Eastern Canada presents a unique set of challenges.

In Ottawa, we spoke primarily English. But it being the capital and close to French-speaking regions, we also included some French, and, being a Chinese production, we had to have Chinese. So the script was something like 50% English, 25% Chinese, 25% French. So for Ottawa I partnered with Catherine Fang who did the French, while I did most of the English in Chinese.

Then in Hamilton, I was rejoined with my regular partner, Alice Liu, and we did the usual English-Chinese script.

Now in the predominantly French-Speaking Montreal, Catherine will be back on stage, and this time the script will be 50% French, 25% English, and 25% Chinese.

The challenge in saying three different scripts in three consecutive cities to start off tour is to keep track of which version you should say when.

I remember the first time we did a trilingual script. It was very ad hoc. It was our first performance in Montreal in early 2007, and I was only about 10 days into being a professional MC. My partner and I had prepared a French-Chinese script, with her doing the French and me doing the Chinese parts. Then, during intermission, the local presenter came up to us backstage. "I'm sorry," he said, "but we have a lot of audience members who came from a nearby town where they actually only speak English and they're having a hard time following you. Could you please add some English?"

Only minutes before the start of the second half, we didn't have time to rearrange all of what we were going to say. We had no time to rehearse. So in the seconds before going on stage each time, we would look at each other and say: "Ok, me-English, you-French, me-Chinese, me-English, you-French, me-English. Go!" And on we went.

Trilingual presentations are now a common part of our performances not only in Canada. As I write this, another one of our MCs is doing the same in Japan, and yet another in Sweden. We've done this for years. But still, I better get a good night's sleep.

Jan 2 - The Ideal Dressing Room

We're now getting ready for our first performance at the newly renovated Place des Arts. As the orchestra and dancers rehearse and I have a quiet moment in the dressing room, I notice they really went all-out with the dressing rooms. If someone needed a model for what a dressing room should include, this dressing room - shared by the conductor and me - is it.

It starts with the code on the door for extra safety. Enter a sprawling, state-of-the-art room set up for two with (in our case) his and his costume racks, two granite-countertop spaces, two mirror sets framed by lighting fixtures, divided by yet another mirror above the sink. The chrome faucet allows you to control the hot water (which you definitely can't take for granted with all those sensor-activated faucets that help you save water but don't help you shave). The newly renovated bathroom features a separate sink (with the sensor) that allows for dual use of sinks at critical pre-show moments, as well as a shower and charcoal tiles. The floor is carpeted in a subtle retro-'70s motif. California closets and an elegant glass coffee table match the lush sofa that is at the just the right length for lying down. The room has its own thermostat. Conveniently located sockets for charging electronics complement the free wifi (password kindly provided for us in advance and posted on the wall). A dial moderates the volume of the stage feed, and a huge red digital clock makes it impossible to not know when it's time to be somewhere. Finally, a piano, while wasted on me, makes it a perfect room for our conductor who has been known to compose new melodies while just playing around on the dressing room Yamaha. I want to pack this dressing room and take it with us on tour.

Jan 3 - Favorite Day

Most people have a favorite kind of day on tour. Probably break day is a popular (or maybe universal) one. There aren't many of those, though, so better not get too attached.

I've never heard anyone say their favorite day is setup day. Depending on your role, those days can go 16 hours - from early arrival at the theater to sound check, rehearsals, a performance and drive back to the hotel. The ultimate setup day is the setup-perform-strike day. Those might happen a couple times a season and, for those involved in production, run from 7:30am to past midnight. Historically speaking, we even had a handful of setup-two shows-strike days. Those behemoths usually involved entering the theater at 1:00 am, setting up until about noon, doing a doubleheader, followed by strike. I remember we did one in Prague, and another in Dublin, which was followed by a VIP reception after the second show. By the time we were mingling with the dignitaries at this reception, we had no idea what we were babbling about.

I've also never heard anyone say they like travel days best. But maybe there's a person like that out there.

Some like two-show days best. And for those in our company who do, they get to enjoy a day like that tomorrow. These people say they like the simplicity of a day that revolves entirely around performing, and the joy of interacting with the audience that much.

Others may like the days of one performance in the evening. The day slowly builds in a crescendo toward a grand finale.

My favorites are the days with the one show in the afternoon. Get up early. Have breakfast or hit the gym. Go to the theater and prepare for the show. Have a quick lunch. Go on stage. Then an early dinner, which I think is a good reason to eat a little more. And then, a nice relaxing evening that can be spent with friends, exploring a new town, just relaxing in the hotel, or even being productive at a coffee shop. Today was that kind of a day.

Bonus: For some reason, our Fridays so far in Canada have featured matinees, not evening performances. Traditionally, our weekends featured shows on Friday evening, two on Saturday, and an afternoon one on Sunday. In spite of being on Friday afternoon, the theaters have been packed and very energetic. Perhaps someone can tell me what the rationale is. But don't get me wrong, I love it.

Jan 4 - Formation Foto

Before our second of two shows today in Montreal, dancers warm up on stage. The beautiful thing about this photo (courtesy of dancer Ben Chen), is that they actually weren't posing for a photo, they just happened to be stretching in formation. From left: Jun Liang, Rubi Zhang, Shawn Ren, Bill Hsiung, and Teo Yin.

Jan 5 - Tomorrow's Plans

With whoops and hollers from the audience at curtain call, we finished our last performance in Montreal. Less than two hours later, we were already heading west to Mississauga. Dancer Betty Wang had just posted a blog about how mild our Canadian weather has been, so of course we hit a snowstorm half way, which added another hour to the five-hour trip. I'm not saying it's her fault. I'm not saying it's not.

Tomorrow will be our first break day since we left for tour on Christmas morning. Some of us are going to go watch the new Star Wars movie. A few dancers are still debating whether to go laser tag or archery tag. Some will have a big salad at Whole Foods. Most will catch up on sleep. Dancers will still have their training sessions, and some musicians will literally seize the day and not let it go, practicing for hours on end. Our harpist was trying to figure out a way to get her harp off the truck (parked somewhere else) and into the hotel. Violinists have it much easier.

Jan 6 - On the Menu

Wherever we go, the local presenter provides delicious catered meals for us, often with home cooked specialties. Getting enough to eat on tour is not the problem, quite the opposite. HOWEVER, what happens when you take a group of people that every day have their food provided for them, and give them one day off to choose what to eat on their own?

I went to Whole Foods and got a huge salad. I topped it with tofu, falafel, and of course, macaroni and cheese. Here's a mini-survey of what our ORCHESTRA members had today:

Big Smoke Burger burgers
Lanzhou beef noodles
KFC
Amaya Indian food
Chipotle salad
Fish and chips
Purple rice with Korean bulgogi beef and vegetables
Instant noodles….

Meanwhile, the dancers got their physical workout today by running to the mall, as it was too close to Uber, too cold to walk leisurely.

Overall, a rare relaxing day, and back to training tomorrow.

Jan 7 - The Mysterious Leg

I woke up early this morning and saw a leg on the wall. My roommate, a dancer, was upside down in his bed, his left leg stretched up flat against the wall and pointing at the ceiling; his right leg not sure where. He was fast asleep.

As I went to brush my teeth and wondered whether my toothbrush with its new battery was so loud it would wake him up, or maybe it wouldn't be as loud if I didn't use my mouth to imitate a guitar's whammy bar, I also pondered whether all dancers have unusual ways of sleeping. A couple text messages later, I have an answer for you:

No, but some do.

Most sleep quite normally, inserting themselves between the secure hotel sheets and, when the sheets are tucked too tight, trying not to pull a hamstring as they kick them loose. But some dancers are a bit more unique:

One of our principal dancers like to sleep facing up in a horizontal split, legs and arms stretched 180 degrees out to the side. As you'll see, the stretch-sleep is a common theme.
A common variation of that is used by many dancers for napping: they get into a side split, then lie face down and stretch their arms out to the side as well. Most mortals cannot get even close to this position, let alone find it a relaxing way to doze off.
Another popular one is a front split-sleep, head to knee. One dancer has been known to fall asleep in the hotel room doing a vertical front split, that is, one leg up against the wall, leaning into the wall.
Hard mattresses are preferred for back support, and on occasion some of the guys have just taken their beddings to the floor and slept there, leaving the plush sinkable beds cold.
Some don't use any pillows; others arrange all eight pillows from both beds in some kind of sandbag bunker formation.
Most of the ladies don't use pillows, but many bring a stuffed animal.
A few dancers have mini humidifiers, especially for dry Canadian hotel rooms.

Napping at the theater has its own set of tricks:

Three chairs and a shirt over the face is a typical method.
Dragging the flipping mats into a quick-change room and napping there is another.
One time last year, a dancer took an empty costume suitcase and used that as a base for the torso and upper body, basically sleeping in a suitcase with legs outside of it.
Others have special inflatable German camping mats.
And then there are those dancers who don't sleep much and are just up after four hours raring to giddy up.

Speaking of which, my roommate has now joined us in the lobby ready to go to theater for training on a non-show day. Let me go ask his permission to post this.

Jan 8 - 'Banned in China' Video


Today, as we performed our first show in Mississauga, an interview I did right before tour with American Thought Leaders in New York was broadcast at the same time:

"Shen Yun Shatters Communist Party Narratives, Prompting Attacks by China's Regime"

Here it is, if you're interested. Apparently, some people didn't know Shen Yun wasn't Chinese government propaganda. Once they found out that the CCP is against us and has been try to sabotage us all this time, they decided they must see the show and went to buy tickets.

Jan 9 - The Great Debate

"Does the cello represent the man or the father?" our concertmaster asked me. It seems like he was in the middle of a debate with another musician, perhaps a cellist, and needed an arbiter.

"What are we talking about?" I asked.

"You know in the trio, between the young Taoist, the young lady with the handkerchiefs, and her father? The violin represents the lady, but there's a cello and a viola representing two men. So, who is who?"

Okay, so now I knew what he's referring to—in our second half we have a story in which a young Taoist, who is sort of like a friendly wizard, has a magical instrument that can make anything out of thin air. He amusingly uses it to get a young lady out of a tight spot. The two then discover they have a spiritual bond.

Along with her supportive father, a short trio ensues. The solo instruments are a cello, viola, and the violin, performed by our concertmaster.

But whose voices are the instruments sounding? The lighter violin is most certainly the nimble lady with long braids. But is the deeper cello the young Taoist, full of depth and introspective wisdom? Or perhaps it's the viola, an instrument in the middle range, that represents the Taoist and the balance he has found with the Way of the universe? In that case, maybe the cello represents the elderly father, its rich tones resonating with the depth of his life experience.

Or do neither represent either one nor the other, and like two or three sounds blending as one, they represent souls coming together in a moment of Taoist predestination?

I'll get back to you with some answers Saturday.

Jan 10 - The Concertmaster

(This post is a continuation of yesterday's topic, so if you haven't read that, you can scroll down to see that first and then come back.)

So, in exchange for me chiming in on the debate that started yesterday, the concertmaster has agreed to tell us a bit about what a concertmaster actually does. The role may be obvious to anyone who's played in a classical orchestra, especially in the strings section. But that's not the majority of us. So here's a brief overview:

The concertmaster is like a bridge between the conductor and the rest of the orchestra, starting with the strings. He communicates the conductor's wishes for interpreting the music and how it should sound.

The concertmaster sits to the immediate left of the conductor. That's why the position is also called "first chair." In Italy, the concertmaster is actually called la spalla, meaning shoulder. That's because the concertmaster is the person the conductor can, metaphorically and literally, lean on for support.

He or she—he in this case—is in charge of leading the string sections, or, more accurately, leading the first violin section.

In the early days of the symphony orchestra in Europe, there was even no separate conductor—the concertmaster would lead the orchestra.

The concertmaster typically plays all the violin solos in the performance.

The concertmaster often provides decisions about bowings for new music so that the entire string section plays in unison.

In symphony performances, like Shen Yun Symphony Orchestra, the concertmaster, usually Chia-Chi Lin or Astrid Martig, walks on stage after the rest of the orchestra but before the conductor, receiving a personalized round of applause.

The concertmaster leads orchestra tuning before a performance. This is not just a formality, but an important preparation for the show. If the concertmaster hears a section or an instrument out of tune, he can ask them to repeat the note and correct it.

And, right before the performance starts, in the final seconds before the curtain comes up, after the conductor's spotlight turns on and he stands up, the concertmaster and conductor shake hands. This is a sign of mutual respect between the conductor and the orchestra, with the concertmaster being a representative of all the musicians.

You can see why the concertmaster has to be one of the most skilled musicians in the orchestra, a leader and strong player with clear bow gestures, a violinist with good musicality and impeccable timing, and someone who can adjust and respond quickly, especially in a performance that involves synching with dancers on stage.

Our group's concertmaster Tseyu Chang is now in his second year as concertmaster. Born in Taiwan, he has been with Shen Yun since its founding in 2006, and has played in well-over 1,400 performances as part of the dance production, as well as eight years with Shen Yun Symphony Orchestra, including at Carnegie Hall and other vaunted concert halls around the world.

Still, he wants to know our opinion—is the cello the Taoist and the viola the father, or the other way around? I'll have to watch and listen for it again tonight during the performance and get back to you.

Jan 11 - The Debate Winner

Alright, I have an answer for you to the question below (Jan. 9).

I'm writing to you from the dressing room here in Mississauga, Canada, typing quietly so as to not wake the napping conductor. We are between two performances on the standard Saturday doubleheader. This afternoon, I noticed the audience here had a great eye for detail—they were following all the little subtleties of the performance very closely and reacting instantly. It was a lot of fun.

Not to fall behind our audience, I paid particularly close attention to how the music and the dance matched in one story in the second half, and how the three characters—Taoist man, lady, and lady's father—aligned with three instruments—cello, violin, and viola. And yes, after following the dancers in the wings, tracking them upstage, looking and listening carefully, I have an answer. The viola is the father, the cello is the Taoist, and the violin is the lady.

Without placing a call to a composer (as that would be cheating) here's the evidence at my disposal:

We have already established that the light violin solo represents the young lady with the long braids. The concertmaster yesterday told me as much.

The young Taoist gentleman's theme, not quite a leitmotif but clearly recognizable, is played by the cello even after the trio is finished and the father recedes to the background for the duet between his daughter and the Taoist.

This leaves only the viola to represent the father. And, if you think about it, it makes perfect sense. The father is a character between the two young partners and their matching spiritual aspirations of seeking the Way. He is supportive, but he is mostly an intermediary who introduces and blesses them. And between the two string instruments of cello and violin, there is only the viola.

It only took me 15 shows to figure that out.

Jan 12 - The Poster Ritual

Sunday afternoon and we are right before our sixth and final performance in Mississauga. Many backstage hallways are decked with posters, often signed, of artists and companies who performed there. Some are historic—great legends that have barely been captured even on video, and others are more contemporary.

Here in Mississauga, it's like an homage to Shen Yun.

As you walk down the long hall that runs parallel to the back wall of the stage, one entire side is covered with Shen Yun posters from every year since we first performed here in 2012—each autographed by that year's entire company.

This leads to a little ritual as performers, usually in free moments after a meal, wander over to look at the signatures. They look for their own autographs. They look for friends in other groups. They're reminded of people they had toured with five, six, seven years ago. They find people who have since retired, or left and gone on to do other things. Blasts from the past, I suppose not unlike looking at class yearbooks.

And of course, there's the signing of the new poster. Some add a little flare—a mini drawing of their viola, or an amusing spot to sign a name, like on the pictured dancer's foot. Next year, another one of our groups will add theirs to the collection, on a poster yet-to-be determined, for a performance yet-to-be created.

Jan 13 - The Chinese Sendoff


Good to be back south of the border. We crossed over the Ambassador Bridge from Windsor, Ontario over the Detroit River and into Michigan. This is one of the busiest border crossings in North America, and security was particularly heavy today. Two more hours and one Japanese-Chinese buffet later, we arrived at our hotel in Grand Rapids. Tomorrow we have one of those intense setup-show-strike days. This might be our company's only one this year, though in the past we'd have them all the time.

This morning, when we drove off from the hotel in Canada, the local presenters and volunteers came to send us off. As our bright yellow bus rounded a corner and stopped at a red light, I spotted one Chinese man who was still standing there, looking at us, by then a few blocks away. He wasn't waving, as he had been a few moments prior, since we had already driven away. He was just literally seeing us off.

Chinese have this tradition that I found very touching the first time I experienced it. When they send someone off, let's say a guest at their home, they will stand there and watch the person drive off until the car disappears in the distance. This sometimes leads to a little goodbye dance, where the person drives away, then turns around to look back and wave, then keeps going, then stops the car and waves again, and then finally disappears. This same goodbye scene can be played out in other settings, too—if they walk someone to a subway station, for example, they will stand at the top step until the person disappears entirely underneath.

Maybe lots of other cultures do this, too. We've definitely seen or done this kind of thing at airports, right? And it's in movies at train stations or as a transatlantic ship leaves the port. And it's in novels, where friends walk each other out to the edge of the village, unwilling to part.

But I've never seen it performed so unfailingly, even on the mundane occasion of dropping a colleague off at home, as with my Chinese friends.

Which brings me back to the man in the blue jacket and black baseball cap watching up stopped at an eternal red light. He was part of the crew in charge of guarding our vehicles 24 hours a day. We've had this kind of security for our vehicles ever since someone, and we think we know who, tried sabotaging them in a series of tire slashing and fuel tank tampering some years back. From that day on, countless volunteers around the world, many of them Chinese people who don't speak any English, have sat in their parked cars all night long watching our buses. And we tour during the winter. In Canada.

They do it out of support for Shen Yun and what we do. They want no recognition. They take shifts, so we don't even ever see the overnight watchers. I've never, in all these years, heard even one of them complain. But I've seen their cold red noses and wind-dried cheeks as they've sent us off. And I saw the man just standing there alone. I tried waving at him, but he couldn't see me inside the bus. We were off to the next city, and he went back to his family and to catching up on missed work after a week's vacation spent guarding our buses, and not wanting to say goodbye.

Jan 14 - From Venezuela With Love

Meet Gustavo Briceño. A violinist, this is his third year with Shen Yun. His wife, Gabriela Gonzalez- Briceño is a bassoonist with Shen Yun. And they tour the world together—in separate companies. Let me explain.

Gustavo and Gabriela are from Venezuela, where they had already embarked on distinguished musical careers before joining Shen Yun, together, in 2017.

Gustavo has always been in our group—Shen Yun World Company. Gabriela is with the orchestra of Shen Yun International Company. We are in Grand Rapids Michigan. They are in Manchester, England. But they are always together.

Here's a picture of Gustavo at lunch. This is what he does—his headphone is constantly plugged in to at least one ear. It's the same when he gets on the bus in the morning. It's the same when he's at the gym. It's the same when he's helping pack after a show.

He's not one of those people who is always listening to a podcast or classical music, or has headphones in just to avoid actual humans. He seems to just have a constant open phone line with his wife. In marriage, communication is everything, right?

And if you sit next to him at lunch, it doesn't feel like he's being anti-social. He's involved in the table conversation. It's just that he's having another parallel conversation in Spanish on his headset. It's just like his wife is there, by his side, keeping him company. Presumably somebody in her group's parallel world is writing a blog about her talking to Gustavo.

And if you're wondering why not just put both of them in the same group. Well, we have couples like that, too. Not that many, really, but a few. And if all of them were in each other's groups, it would be administratively difficult, if not impossible.

For example, Gabriela plays bassoon. But the bassoonist in our orchestra is married to one of the percussionists in this orchestra, so you would have to relocate both of them to another company to bring Gabriela here. It gets complicated super fast.

And then there's the argument that you can enjoy being together when you're home, and on tour you can focus on your art and performing. We're a big family anyway, and there's plenty of support and caring to go around.

Plus, in my experience, being away half the year is a good formula for a long, happy marriage: leave for tour right before you've worn out your welcome, return when you're sufficiently missed.

Or just talk on the phone a lot.

Jan 15 - Top 8 Ways to Lose Things

Yesterday was just a quick one and done in Grand Rapids. This also means just a brief stay at the hotel here before heading to Detroit this morning. I've noticed a cosmic law that there's an inverse correlation between how nice a hotel is and how long you stay there. Call it Fawlty's Law.

All the hotels we stay in these days are quite nice, but there's sometimes that one that is just so perfect it even has wireless phone charging, delectable omelets, and a decked out gym. So in a hotel so perfect like this, we might stay a max of two nights.

And it's in this combination of short hotel stays and one-day sojourns in a theater that it's easiest to lose things. Last night, during intermission, one of our violist's wallets (we have more than one violists, but each has only one wallet) was reported stolen. Just as everyone was about to quickly check their valuables, he found it.

It's so easy to lose things on tour. And if you're new to this skill, here are the top 8 ways, to get you started:

1. When you get to your hotel room, unpack your suitcase and stuff everything into all the different dresser drawers, nightstand drawers, desk drawers, and any possible compartment you find. The next morning, wake up late and check out in a hurry.

2. Hide your passport really, really, really well.

3. Go in to the empty audience in the afternoon, and get comfortable, taking off your hat and scarf and put them in the seat next to you. Remember them a week later.

4. Listen to music on your Apple Airpods while lying in bed. Then watch them disappear into the white fluffy pillows, never to be seen again.

5. When the bus stops at a gas station, take your phone charger and plug it in behind a vending machine. Then go to the bathroom and, because the line is too long, run back to get on the bus. If only buses had wireless charging.

6. Whenever you leave your hotel room, trust that the door will just close behind you on its own. Don't fret over pulling it after you, hearing the lock latch, testing it by pushing back, or anything else like that. Definitely leave your wallet somewhere visible.

7. As you run out the hotel in a daze in the early morning, grab your breakfast to go, a jacket, and put your hotel key somewhere. The vaguer the better.

8. Leave your dance shoes outside the hotel window ledge overnight to air out. This works best in Chicago.

(Thank you to dancer Betty Wang for contributing to this list! She contributed as a reporter, I mean, not based on personal experience. Personal, yes, but not things of her person.)

Actually, most of us will go entire tours in a row without losing anything. But then there are some people, and I won't name them here, we all know who they are, who have a knack for this skill. I have a list of these people, now where did I put it...

Jan 16 - The Mall Booth

On the way from Mississauga to Detroit, one of our shortest trips of the year, we stopped at Twelve Oaks Mall in Novi, Michigan. This is a common tactic on localish commutes. If you need to check out of your hotel by 11, and can't check in to the next one before 3, and the journey is only a couple of hours... let's see, 11 plus three, carry the 1, go back to the 12-hour am/pm system, minus 2, add for traffic, it leaves... some time. So why not stop at a mall for lunch on the way.

It was here that I found something calling me: an unoccupied Shen Yun ticket sales booth.

This one was very nice. It had a few oversized posters, flyers, and a screen playing the trailer on loop. But there was nobody there. So, not unlike Goldilocks, I went right in. There was a chair—not too soft, not too hard, just right. And a table, not too high and not too low.

No sooner had I settled in than a lady approached. Impeccably dressed and walking with an elegant gait, she seemed like the perfect theatergoer. "Excuse me," she said in what I will now recall as a British accent. "Do you happen to know where J.Crew is?" This was a recurring theme, as from the side the booth looked just like an information stall. I politely redirected people in the direction of the directory a few steps away.

One lady did say she has wanted to see this performance for years, asked about specific times, took a flyer, and said: "Maybe I'll see you there." Little did she know...

Then, three musicians came over, ready to challenge me. "Hi, sir, we would like to find out about this performance."

"Absolutely! Listen," I said, "I can get you a special deal! Orchestra level seats, very close to the stage. Great view of the conductor. Surround sound experience. Not only that, we can arrange for you free bus rides to the theater and back, a pre-show Chinese meal and a post-performance catered spread. You will even have an opportunity to mingle with some of the performers and stay with them at the same hotel!"

Somehow they didn't buy tickets, and I moved on to the food court.

Jan 17 - In Detroit

First performance in Detroit tonight. We will be here for about 10 days and doing 10 shows, the longest Detroit run I can remember. It's at the beautiful Detroit Opera House, with a lobby like the Palace of Versailles, box seats like Teatro alla Scala, and a backstage like Alcatraz. The dressing rooms, where soloists like our soprano stay, were indeed designed for the Sopranos—dimly lit, black leather armchairs with gold studs, pictures of the famiglia on the walls...

I kid. It's a beautiful theater built in 1922 that bridges Detroit's old glory and contemporary revival, complete with hipster coffee shops nearby. We'll try to get you some pictures.

We loaded in and did most of our setup yesterday. Some theaters just require more time. I won't bore you with the details but I will tell you it involved stairs. Lots and lots of stairs.

Today we will roll in to the theater in time for lunch, do some sound check and stage spacing in the afternoon, and get ready to greet the audience this evening. Maybe the lady from the mall (see yesterday's post) will be there.


Jan 18 - Dancers Through the Snow Video


Good morning from Detroit. Here's how our day begins ahead of two shows. For all our audience members coming to the theater, and everyone else out there: drive safe and stay warm. Looking forward to seeing you inside the cosy theater.

Jan 19 - Reciprocity

Sometimes little moments show me the universe is kind.

This afternoon, I was shaving before the show. I always wait until the last minute because my beard grows so fast I have a five o'clock shadow by nine am. As I lather up, I have one spot left to cover. One last drop of shaving gel comes out of the can. That's it. I shake the can—it's empty. Half a year of using this can, and it quits after providing just the right amount one last time. And when did it quit? The first time all tour we have a trip to Target scheduled after the show.

A cynical me might have expected it to quit a few days ago, leaving me running up and down the halls brandishing a razor with a half-foamed face. Or it might quit tomorrow, the day after we go shopping without me even noticing I was running out. Or it could have just had one drop too few. Or one drop too many. Nope. It was just perfect. And it comes at a time when I've been consciously looking for the positive in things.

And this makes me think about what we choose to see and notice. I've heard people call a similar phenomenon the law of reciprocity—that what we think affects what happens around us; or the law of attraction—that negative or positive thoughts bring corresponding consequences.

I've heard psychologists explain this by saying it's the data your brain chooses to process; like how when you're thinking of buying a certain model car, you start seeing that car everywhere. Religious people talk about seeing God in everything. I've even heard entrepreneurs talk about how when they have an idea, people around them just start showing up with opportunities to make it happen.

But what about terrible things like slavery and genocide? What about the DMV, or how when you're in traffic and you move into a clear lane it immediately becomes the slowest one? What about Murphy's Law and, yes, even Fawlty's Law (see Jan. 15)?

Look—this is a blog, not a philosophy class. So give me a break. Clearly I don't have all the answers. I'm just saying that maybe sometimes, if we dial in, we can notice moments of the universe being just. Insta-karma, for example, is definitely a thing.

And sometimes those moments of kindness can be traced to actual people. The last couple of days, two people in my group did something kind for me. It was pretty small, and what they did doesn't really matter. But it was the way they did it that touched me. They did the whole thing quietly behind the scenes. I just happened, in a moment of sheer brilliance, to connect the dots on my own.

Not only did they not tell me they did it, they did it without even leaving that hint that we leave behind if we want someone to find out we did something nice for him but we want it to come across like we didn't want him to know because that's more noble, but we actually do want him to know, but don't want to show that we want him to know, you know? None of that. Just simply doing something nice for someone because it is the kind thing for a person to do.

And sometimes, shaving creams are people too.

Jan 20 - Framed in the Lobby

Here's one photo from the beautiful lobby of the timeless Detroit Opera House. From left): cellist Jasmine Jordan, violist Paulina Mazurkiewicz, and oboist Leen De Blauwe next to the exquisitely framed Shen Yun poster.

Do you think the Opera House paints its walls to match Shen Yun's poster background every year?

Jan 21 - Motor City

Break day in Detroit today, ahead of five straight performance days. Eight of our guys, in the spirit of Motor City, headed out for some go-karting.

It was serious business, complete with safety gear, a formal briefing, and performance analytics sheets.

So what happens when a bunch of dancers with a need for speed use their agility, quick-reactions, and perfect timing to race? The one musician in the group wins.

Violinist Will Zhou stands tall over (though just barely) dancers Teo Yin (second) and Jun Liang (third).

Jan 22 - Break Challenge Q&A

We're about to begin the second part of our 10-show run in Detroit, with a performance tonight, tomorrow afternoon, Friday night, two Saturday, and one Sunday before we leave. That having been said, we didn't perform Monday or Tuesday. And our show Sunday was an early matinee, so it'll be more than 72 hours between shows.

A couple days off may sound like a normal weekend, but on tour, when we're performing almost every day, two or three days with no shows feels like a long time. Traveling internationally there are often strings of several days without performing, what with intercontinental flights and all. But in North America there might only be a couple of these all tour, and it can feel a little awkward.

Performers are of course used to being both on and off stage. So I'm going to harass a few people during dinner and ask them if the two-day break presents any challenges:

Dancer Jack Han: It feels like we don't have a show today. And it feels like a new city.

Percussionist Brian Marple: With a two-day layoff, muscle memory gets a little fatty. The feel for the music isn't quite there at your fingertips as much, so you have to concentrate a lot more to get that same precision.

Dancer Betty Wang: I have to make sure to warm up very thoroughly, including all the little muscles. And also practice all the techniques we have for the show when we warm up, so we have confidence on stage.

Pianist Hui-Zhen Chen: Is there a difference? I'll have to tell you after I'm on stage.

Dancer Lily Wang: Laundry. Not being in the theater with access to the washing machines, I have two-days worth of dance laundry sitting around.

Flutist Helena Huang: It depends on whether you practiced or not. If you practiced properly, then it's no problem.

Bassoonist Steven Louie: A good musician is always prepared.

Concertmaster Tseyu Chang: Challenge? Yeah, the challenge is I actually feel like I want two more days off.

Dancer Ben Chen: It won't be hard to be energetic, but need to focus the mind on the right thing. With difficult techniques, for example on a two show day, by the time you get to the night performance you've already done it successfully in the afternoon, and you did it before each show while warming up. So you feel like you've just done it. It's more about getting back into the mental routine. Still, it's only two days—it's not like you left your car sitting there for the whole winter and you're trying to start it again.

And there you have it. We should be able to start this car no problem.

Jan 23 - The Slient Trumpet

It's an hour before the show, and Aleksandr Antonov is standing in the hallway in the theater basement. His elbows are raised, his eyes are fixed somewhere in front neither close nor far, and his trumpet is pressed against his mouth. His fingers are moving almost as rapidly as his mind, but not a sound comes out.

Aleksandr, known to most as Sasha, grew up in Saint Petersburg, Russia. When he was 6, he started studying piano and three years later tested into an elite conservatory, where he studied for eight years. But by the time he turned 12, a teacher recommended he study another instrument and think about changing his major. Sasha picked the trumpet.

"I felt resentment initially," he says, "but now I feel gratitude to my teacher, because she directly contributed to my future. "

Being a trumpeter, his skills were in high demand in the orchestras back in Russia, and it was the trumpet that eventually led him to Shen Yun.

"This showed me that sometimes, even when you have to change something in your life, that, at the time, seems like a step back or an undesired action that is forced, much later it might turn out to be a good thing."

Sasha went on to earn a master's degree with honors in concert performance from the prestigious Saint Petersburg Conservatory in Russia. He won international competitions and served as principal trumpet for the Saint Petersburg State Symphony Orchestra. Then, he saw that Shen Yun had an opening. He decided to apply.

"Once I got to Shen Yun, I felt very comfortable as though this place has always been my home," he says. "I liked the people and the way I was treated and the way everyone treated each other. I found the atmosphere in Shen Yun is one of caring, help, benevolence, and understanding."

That doesn't mean he didn't have to work hard. Sasha arrived only two days before the beginning of tour and had only two rehearsals before opening night. It was a challenge, but with help from his brass section and conductor, he made it.

Now that he's been here for a few years, Sasha raves about the advantages of being part of this group, listing: "Unprecedented enormously big world tours," "meeting people from around the world in Shen Yun," and "high moral criteria among the members due to adhering to the moral principles and concepts of Falun Dafa."

This makes a difference to him on a daily basis. "It creates a rather similar inner field and life values among the people here, which brings a feeling of being in one family where everybody takes care of each other and is considerate of each other."

There were, of course, some things to get used to. But when you ask him about them, it's not what you might expect—lots of Chinese food, group meditation sessions, or long bus rides. It was more thinking as a group rather than as an individual, and the high professional standards such as a strict dress code and always being on time (if you're five minutes early, you're five minutes late). "For anybody coming to Shen Yun for the first time, these might be the things to get used to."

Sasha did a lot of research before joining the company, and felt he already knew quite a bit about Shen Yun. "I knew that Shen Yun is a great place, but once I came, the first day I was ensured that my high expectations were outdone."

He was as amazed by what he calls "the stunning management of all the production aspects in Shen Yun." Accommodations, transportation, and food are all seamlessly arranged for performers on tour, while at home he enjoys the gorgeous home facilities.

"All of these give the most comfortable conditions for both musicians and dancers to practice and work on the production."

Now, as the minutes tick away before the show, he stands in his blue Shen Yun zip-up, preparing for perhaps the most challenging passage for a musician in this year's performance. It's a blazingly fast trumpet solo.

Sasha often practices it by not really playing the instrument, only playing the valves with his fingers, imagining that he's playing, focusing on the precision of the fingering. Other times, he plays it bar by bar in a slow tempo to work out the complexity of the aspects in this solo.

"This is quite the atypical trumpet solo from the perspective of the world's classical repertoire, wherein the trumpet would be mostly loud and fanfare-like, sometimes technical enough though, but not that much," he says. "But this solo is more, I'd say, like a clarinet or flute solo. It involves a jumping melody and very fast texture."

There are some similarities in symphonic work that involve brilliant trumpet solos that are fast, or those highlighting dramatic moments and climaxes. In those classics, he says, "the trumpet often plays a role in loud entrances or solos, or as a harmonic enrichment function of the long notes and 'pedals'." But in Shen Yun music, the trumpet takes on additional roles.

"There are many more functions and duties put onto the trumpet that definitely make the Shen Yun trumpeter busier in comparison to playing classic symphonic works."

"The solos are more intricate, fast and jumping, and are often performed openly and transparently without much coverage of other instruments, which requires much more precision and accuracy."

And that is what this solo, which appears right before intermission, requires as well. And this passage, performed by a Russian trumpeter, matches in both exactness and explosiveness, the corresponding techniques of the Chinese dancers on stage.

Jan 24 - The Chinese New Year


Today is Chinese New Year's Eve, or chuxi (除夕). What that means is that tonight, while we're on stage in Detroit, Chinese people (and East Asians more broadly) around the world will be starting their own celebrations.

What it also means is that today our phones will be ringing off the hook. (Do we still say that? Maybe buzzing off the lock screen?)

First thing in the morning you'll see people in the hotel lobby calling family back in China or Taiwan, where it's already nighttime and celebrations are underway. Then, throughout the day everyone—Chinese, non-Chinese married to Chinese, people who know a Chinese person—will be receiving text messages. Not really messages per se, more like Full Length Feature Film Greetings, complete with end credits scenes.

I've noticed these have gotten more sophisticated the last few years. It used to be a simple text: Happy Chinese New Year (guo nian hao). You could just copy-paste it and reply. Done. And repeat 47 times throughout the day.

Then it evolved into all kinds of riddles and clever rhymes involving a pig, rooster, platypus, or whatever the zodiac of the year was.

This year it's the mouse or rat (see excellent story by Alison Chen), so we can expect Chinese pun equivalents of: "It's time to play, the cat's away!" Or, "Wishing you a mice new year!" Or, "Hey, word of mouse has it you're going to have a great year!" And so on. It's a little better in Chinese.

And then there are the images. Gifs, videos, cartoons. Firecrackers, balloons, confetti. It seems like every year it's an implicit little game to outdo the previous year. I don't have time to research the perfect, original, never-before-seen animated hologramic Chinese New Year image—one has to blog, you know. So I still reply with the old 1.0: "guo nian hao!" hoping I get a pass as a lao wai (non-Chinese).

But if I get any amusing ones this year, I'll share them with you in a few days. In the meantime, have a nian gao—literally glutinous rice flower cake, but also literally "an elevated year!"

Happy Chinese New Year!

Jan 25 - Interview Time?

Scheduling. Is it just me, or is it getting harder and harder to get two people to cross paths along the time-space continuum in some sort of pre-planned manner?

I have a friend in Detroit who works 10 minutes away from the theater. We've been trying to meet since I got here and every day something comes up. And here's a better example—a Shen Yun interview we've been trying to schedule.

Sometimes on tour we'll do interviews—usually morning talk shows or radio calls. The radio ones are my favorite: You don't need to do makeup or go anywhere; you don't need to dress up. More importantly, you don't have to talk in sound bites (TV) or fear the reporter (newspaper) will remember your words wrong and quote you as saying something silly. In radio, you have a conversation. The people interviewing are usually good talkers, inquisitive, and fun to chat with. Your words won't get distorted and you usually have at least 5-10 minutes to get into things.

So we had a radio interview scheduled. Or so I thought. A few simple emails back and forth and we landed on 2:30pm EST, 5:30pm PST. And if you start to see the problem, you're already one step ahead of me.

2:30pm comes around and I go into a quiet dressing room. I kick people out. I turn off the noisy radiator. I've got my water and I'm ready to go. Nothing. I look at my watch. Hmmm. A light bulb goes off (in my head this time). You know, I think they must have gotten it backwards—2:30pm EST is 11:30am PST. They must've meant 2:30pm PST, 5:30pm EST. Great, I'll do something else now and be back at 5:30pm.

5:30pm comes around. I've reclaimed the same dressing room. Put up a sign: "INTERVIEW IN PROGRESS. QUIET PLEASE." I knocked on the door of the singing soprano in the next room and politely asked if she could stop her mandatory professional training for about 15 minutes, you know, maybe go get dinner or something. I packed an early dinner for myself for later in case the interview goes long. I've got my water. I'm ready.

5:35pm. Nothing. 5:45pm. Nothing. I pick up the phone and... send a text message, because who calls anymore, right? Clearly not the radio station.

Oh, turns out they meant 5:30pm PST, 8:30pm EST.

Well, we have intermission at exactly 8:30pm, so maybe… No, no, that won't work.

Okay, it's rescheduled for Tuesday when we're in Evansville. That'll definitely be fine. Right?

Jan 26 - 10-Show Ran

We finally finished our 10-show run in Detroit. The audience here was remarkably enthusiastic. And, as promised, here are some photos of the beautiful Detroit Opera House, courtesy of violinist Will Zhou (who you'll recall is also known for his go-kart talents, see Jan. 21):

Jan 27 - New Year's Apart

Chinese New Year is a time for thinking about family. And today, at a gas station in the middle of Ohio, a mac-n-cheese got me thinking about it too.

Growing up in Israel in the '80s, I used to crave some of the foods I had experienced while living for periods of time in America. My late grandmother, who was from California, would visit us maybe once a year and would always come with two suitcases: one for her clothes, and one full of American foods we couldn't get in Israel—Lucky Charms, marshmallows, Charleston Chews, taco shells, and boxes of mac-n-cheese.

Those Kraft macaroni boxes cost maybe 25 or 30 cents each, but they were precious to us, and we would save them for birthdays and other special occasions. So today, as I was standing outside a Pilot gas station eating a cup of hot mac-n-cheese, somewhat taking it for granted, my mind jumped to how we treasure things when they are limited, and how we treasure things once they are gone.

Which brings me back to the Chinese New Year. This image below, posted on Shen Yun's Facebook page, made someone in my group cry:

It's just a cute little image of a family gathered around the table for the New Year, three generations happily, if simply, enjoying each others' company. But for this person, the image was a reminder of moments no longer possible.

This is a reality for so many of my friends and colleagues. It's a type of persecution that won't make headlines: 'Dancer Cannot Join Family for Chinese New Year.' 'Cellist Not Allowed to Attend Daughter's Wedding.' But it hits close to home.

A few years ago, a performer was on tour with me when her father suddenly passed away in China. She had been particularly close to him, closer than almost anyone else in the world. She hadn't seen him in years, separated because, as a Falun Gong practitioner and a member of Shen Yun, she could not go back to China. If she were to go back, it would only to be arrested, interrogated, or worse. Neither could she go back for the funeral.

China today may seem very open and advanced. But those who rub the Chinese Communist regime the wrong way—sometimes just by meditating in a park or handing out a flyer—they experience the wrath of an old school dictatorship.

Perhaps this dual reality can be allegorically compared to West Germany and East Germany. For some, until that moment you experience what the regime is really like, you live in West Germany, part of the free world. You surf what you think is the Internet, you travel overseas, you enjoy your family, you shop, and you deal with the day-to-day that we all do.

On the other hand, if you live on the other side of the wall—and you may not even be sure how you ended up there but you did, perhaps by joining a performing arts group the government doesn't like—then you have Stasi agents following you around, listening to your phone conversations and hacking your email, keeping dossiers on your every move, and threatening your family and friends to stay away from you. If you escaped from the East side to the West side, going back for holidays is not an option.

In Shen Yun we have a dancer whose father was arrested, tortured to death, and his body thrown into a ditch; she was 15 months old. We have another dancer whose father was a prisoner of conscience for 12 years. We have a musician who nearly starved to death and saw "heads smashed like watermelons" during Mao's Cultural Revolution. There are many others.

By comparison, I guess, not being able to see your father one last time or join your aging grandparents for the holiday may not seem like much. But for many of our performers from China, at this time of year it still hurts.

Jan 28 - Welcome to Evansville

Just had our first performance here in Evansville, Indiana.

Evansville is, among other things, famous for where A League of Their Own was filmed. Okay, so this is when everyone who knows me starts rolling their eyes and dreading this will be a baseball blog. No, this is not the blog where I tell you that I met my wife playing baseball and that this was her favorite movie. So I won't tell you that.

On the northern shore of the Ohio River, Evansville is part of a tri-state region that includes Indiana, Kentucky, and Illinois. It's like our own tri-state back home along the Delaware River in New York, where you might work in N.Y. during the day, get gas in New Jersey, then have dinner in Pennsylvania.

One thing you notice right off the bat (sorry, promised this wouldn't be a baseball blog) is that, how do I say this without sounding like I'm making major stereotypical generalizations, people here are nice.

They're really nice, actually. Noticed it the first few minutes in the hotel lobby, when three different hotel staff members came over to welcome us with avuncular warmth. Noticed it again today doing an interview at the local NBC station. As we're waiting for our spot—we were slotted between elementary school students talking about their charitable projects and the town sheriff—each person who went on the show came over and shook hands with every other person waiting, took sincere interest in what they were there for, and wished them a genuine all the best. Then the TV anchor, local icon Mike Blake, gave me such a warm, friendly handshake, and chatted with me as much as he could during commercial breaks. He's a legend here, having been on the air five days a week for 40 years, and yet I can't remember the last time a TV host made such an effort to make sure I was perfectly at ease.

And you could see it with the audience when, during the curtain call, audience members stood up to shake hands with the conductor and blow kisses at the performers.

It's one of those things that maybe normally we don't notice is missing, as we spend most of our time in fast-paced big cities. And then it hits you when you see it—oh, yeah, maybe this is what human relations are supposed to be like.

Jan 29 - Working to Classical Music


I just love working to classical music, don't you? At the Evansville Old National Events Plaza backstage green room. From left: Gustavo Briceño, Ian Chung, Chungyi Chen, and Paulina Mazurkiewicz. Cellist was missing in action, but still sounded great!

Jan 30 - Haunted Hotels

Just pulled in to our hotel in Milwaukee, and I'm happy to report it is not the Pfister Hotel. Nor is the Ambassador Hotel. There are a handful of hotels in Milwaukee that are famously haunted, and we have company members who can testify.

A few years ago, one of our companies was put up at one of these hotels. A soprano and a production member who were sharing a room were woken up in the middle of the night by footsteps and shadows moving about the room. Lights turning on and off. You know, the usual.

Pfister Hotel is actually famous among baseball players, as Major League teams used to stay there when in town to play the Brewers. This website collected a few of the players' complaints about paranormal activity. Here's one from a former Washington Nationals star:

"I laid a pair of jeans and a shirt on that table at the foot of the bed. When I woke up in the morning—I swear on everything—the clothes were on the floor and the table was on the opposite side of the room."

And here's a story from

another website

:

"During his first night in the hotel he experienced a wide array of activity. The man stated he had problems with the phone when he called room service. There was static and the phone kept getting disconnected. He heard a knocking at his door, which he assumed was his room service, but in fact, there was no one there.

"As it turns out there were no children and only three other people staying on that floor. Things got progressively stranger. His toiletry bag in the bathroom was emptied and items scattered all over the floor. Clothes the guest had set out for the next day were thrown at him in the dead of night. The guest saw a shadow figure at the end of his bed. The figure proceeded to push him down and laugh. When the guest was finally able to leave, he was given another room where nothing unusual occurred."

Our hotel is nice and new, no history of murders or fires or anything like that, just fresh coffee in the lobby, a clean gym, and lots of sockets for charging devices.

A few years ago, while performing in Long Beach, California, we did stay on the historic Queen Mary. This former British ocean liner had been converted into a hotel, and even though the rooms were small, sleeping aboard a ship and strolling the deck was like enjoying a cruise but without the seasickness (or going anywhere, I guess) and was rather cool.

Still, the ship was also rumored to be haunted, having experienced a catastrophic collision with one of its escort ships during World War II. It has been listed as a Top 10 haunted place.

I remember our dancers had a good time with it. Some thought they saw something. Others could care less. But they did make a very funny video that involved bed sheets and strange encounters in the hallways. Last time we were in Long Beach we were likewise at a different, newer hotel.

Jan 31 - Mice Without End

So remember how I talked about how every Chinese New Year our phones get bombarded with greetings of all sorts (see Jan. 24 post)? Well, I don't know if it's because this year's mouse/rat zodiac is uninspiring or, more likely, because people are closely following the news in China and not feeling particularly festive, but this has been the quietest Chinese New Year in recent memory.

I did receive one message that included a traditional play on words. Chinese love homonyms—words that sound exactly the same but mean different things. Yes, these are basically puns. But at least they are punny in Chinese.

The Chinese word for mouse or rat (鼠) is pronounced shǔ. That's also how you say "to count" (数), as well the count in "countless," or "innumerable."

And so my friend used this for the following New Year wish:

"Wishing you and your family:

Innumerable (mice without end) happiness!

Innumerable (mice without end) gains!

Innumerable (mice without end) blessings!

Innumerable (mice without end) health!

Innumerable (mice without end) peace!"

And here are the very few images I received:

Feb 1 - Not From China


The tragic and disturbing news of the coronavirus is something people in our company, whether they have family in China or not, are watching closely and talking about. Meanwhile, we are starting to see the impact of it here, but not in a way you might think.

It turns out many audience members still think Shen Yun is from China. And so they have been calling the theaters and ticket centers to see if the performances are taking place as scheduled. So we actually issued a press release to address this. Here's the beginning part, with a link to the full version below:

With public concern about the coronavirus understandably high, some audience members have been asking whether the company is still scheduled to perform. Audience members are in for good news: Shen Yun is not from China and the performances will continue as scheduled; not a single show has been canceled.

Shen Yun is based in New York, not China. Performers have not been to China in years, have not had recent direct contact with people from China, and in fact Shen Yun is not even allowed to perform in China.

Feb 2 - Steven's Prose

Today's blog is a bit of prose, brought to us courtesy of musician Steven Louie:

The battle cry from each warrior echoes through silent halls.

Each warrior meticulously preparing for a fierce skirmish from which he may not come out alive.

They receive a shave.

They tighten their belts, ready for what's to come.

Not every one of them is the same.

Some are older; some are younger. Some are fatter; some are thinner.

But no matter the appearance, they are eager to fight.

Waiting patiently in position for the right time.

Are they truly ready?

Will the bone-chilling cold make them tremble?

Will the scorching heat make them sweat?

Are they in over their heads?

The truth is, none of them are absolutely ready.

Only the trials and tribulations of battle will tell.

With one last roar of their battle cries, they leap into battle.

With a brilliant General, victory shall be had.

* * *

Steven is talking, of course, about his bassoon reeds:

I asked him how many hours he spends preparing reeds. He said he spent four hours a day, every day, from June to December, to prepare reeds for this year's tour.

Here's Steven's message to other woodwind players who may find themselves teetering on the verge of insanity while enduring such a grind.

To my allied reed players:

They may be bad,

They may be good.

Just do your best,

Just as you should.

Feb 3 - A British Review

Every once in a while someone will forward me a review of the performance that they really wanted to share. Our web designer sent me this one, and I thought it was so neat that I wanted to share it with you here as well.

It comes from an interview with British actress Dannielle Gostling. You can watch the interview here.

And here's one quote from her, in case you don't want to leave the page quite yet:

"I thought it was incredibly profound and incredibly important and the bravery that it takes for people to use their skill and their craft and their artistry to tell a message that's so important."

But really, I recommend watching the video. It is touching, and also so very British.

Feb 4 - Tosca on Shen Yun

If you regularly follow this blog, you know that I usually share a dressing room with our conductor Milen Nachev, who is originally from Bulgaria. The other day, Milen excitedly told me about a review of one of our performances by a compatriot and one of the most famous sopranos in the world—Raina Kabaivanska. She has sung with Luciano Pavarotti and opposite Plácido Domingo. Some consider her the best ever Tosca in Giacomo Puccini's opera.

And, after watching Shen Yun on the afternoon of January 19, Ms. Kabaivanska agreed to be interviewed on camera by our media partner NTD. Here's what she had to say. You can also see her and listen to her speaking these words in beautiful Italian here:

"It was magical! I have just emerged from a magical world of color, harmony, and perfection. I must say that in my life I have seen many performances, many ballets, but such professionalism, really, is rare. I would say there is a spirit to this company, and this spirit guides these marvelous artists. I am really happy to have been here and to have been a part of this magic... It has been a great discovery for me to see the spirit of ancient China reborn, and I express my gratitude to the organizers."

Feb 5 - In Madison/South Korea

Today is our second of two performances in Madison, Wisconsin. We were discussing how Overture Center for the Arts here is reminiscent of some theaters in Japan and Korea—it must be something about how the beautiful wood interior and gray upholstery in the hall combines with floor-to-roof windows in the lobby.

In the lobby, dancer Ben Chen got this picture of a few of our dancers during daytime training. From left: Shawn Ren, Antony Kuo, Bill Hsiung, Teo Yin (hiding), and Jun Liang.

Feb 6 - Thanks Kirk!

What would be a visit to Wisconsin without cheese?

Wisconsin is America's largest cheese-producing state and is home to cheese mart, Mars Cheese Castle, and cheeseheads, as even most meatheads know.

For a while, our visits to Milwaukee and Madison was pretty uneventful in the cheese department, and were rather low on the cheese meter, unless you count MC jokes.

Enter Kirk. Kirk is one of the nicest stagehands you will meet, and we spent some time together setting up on Tuesday morning. Then, before our show yesterday, he pulled me aside and said he had something for me. Out came… a bag of cheese. Cheese curds, to be specific. More specifically, with an alliteration animal award: Bucky Badger Combo Cheddar Cheese Curds.

Today, as we drove through some snow from Madison to Indianapolis, I opened the bag and enjoyed the chewy, rubbery, and totally fun curds while sharing them with everyone on the bus.

Thanks Kirk! Hope to see you in Madison again soon!

Feb 7 - Performing in Ancient Egypt

Long, long setup day at Indianapolis' Old National Centre, Murat Theatre. It's a very unique venue, unlike any other I'd seen before, with a strong and admittedly spooky, ancient Egyptian theme throughout.

The loading docks are well hidden, as they are painted to be part of the murals that decorate the entire building edifice.

The dock gates open right into the back wall of the stage, which this morning meant that the stage was open to the 28-degree outside for a good part of the load-in. Fortunately there's also a Starbucks nearby.

Old National Centre did put up a very nice "Welcome Shen Yun 2020" sign and, from what I understand, tickets for our three performances at the 2,500-seat theater are close to sold out. Two shows tomorrow, one Sunday.

Feb 8 - The Lantern Festival

Happy Lantern Festival!

Today marks the last day of Chinese New Year celebrations. The Lantern Festival is the fifteenth day of the first lunar month and is called yuan-xiao-jie in Chinese. Jie means holiday, and yuan-xiao means "primary night," but also "sweet glutinous rice balls."

These balls are also called tang-yuan (meaning "soup round"), but some Chinese people insist there's a big difference between the two, so be very careful about mistaking one for the other or you stand to get a long lecture about the subtle yet paramount nuances of glutinous rice ball stuffing techniques (if you want to go down this rabbit hole, see this Taiwanese blog in Chinese: "If you mistakenly take yuan-xiao for tang-yuan, you are committing the error of errors!").

What is clear, though, is that the round balls symbolize the wholeness of the family and a wish for a smooth and peaceful year ahead.

And, of course, the local presenter prepared some for us to enjoy on our last evening here in Indianapolis. Here's violist James Hwang enjoying one:

Other Lantern Festival activities often involve going for a night stroll to enjoy the colorful lanterns that decorate the houses (a little bit like going for a drive to look at Christmas lights) and, mostly for children, trying to solve riddles hung from lanterns.

The truth is, on tour we often forget what day of the week it is, let alone what holiday, and most people I wished "Happy Lantern Festival!" to responded with: "It's the Lantern Festival today?" "Isn't that tomorrow?" Or "I thought that was last year."

Back home at our headquarters in New York, the Tang Dynasty-style wooden buildings are decked with dozens of glowing lanterns, each about three feet tall—pink, purple, yellow, green. Those of us who happened to be home for this one year, will remember the lanterns' playful warmth amidst the cool, clear nights and snowy hills.

Those were moments when you want to just stop, look up at the stars, and take in the beautiful sound of stillness.

For more about the Lantern Festival, see "The Tale of the Humble Lantern."

Feb 9 - Perfect Split

How do dancers become so flexible? Are they just born that way? Or do they train from a young age?

Well, these dancers who you see holding their feet straight over their heads, jumping into perfect splits, twirling a leg all around their body and so on, work very, very hard.

Sure, they started fairly young, but really for the most part didn't do too much stretching before their early teens. Some dance teachers even discourage younger children and their parents from stretching too much, especially assisted stretching, as they say it can affect the body's healthy growth—and for someone with professional dance aspirations, good height and healthy limbs are a must.

But even now, as professional dancers who perform every day with great flexibility, they not only maintain, but also constantly strive to increase their range.

When doing a front split on the ground is no longer a challenge, a yoga block is introduced. Then a step. Then a yoga block on a step. And so on.

In this photo, taken by projectionist Regina Dong, the dancers (starting with Yoriya Kikukawa, Pamela Du, and Cheney Wu) stretch in the lobby of Overture Center for the Arts in Madison:

Feb 10 - Unscripted

On stage, microphone in hand, I like feeling like I'm talking to people. And of course, I am, usually 2,000 at a time. But sometimes, with the spotlight in your face and a very quiet hall, it takes some self-convincing that there are actually humans out there—fathers, mothers, aunts, uncles, grandparents, children, CEOs, artists, TV anchors, ushers, and a sound engineer. And then, there are those intimate halls when you can hear every murmur in the audience. Those are my favorite.

Indianapolis was such a hall. So were Baltimore and Fort Worth. I can hear you say, "Excuse me," as you find your seat. I can hear you cough, sneeze, and clear your throat. If you're a child having a tantrum, I can still hear you whimper after your mom took you to the lobby for time out. I can hear your water bottle cap drop and your cough drop wrapper untwist. If you're sitting in the first row, I can hear you think.

And there's nothing like hearing subtle audience reactions. There's of course the rush of a good joke—that moment of suspense right before it and then the tremendous audience release. The subtle reactions, though, are somehow even more satisfying because in those moments, you've been able to capture someone's imagination.

Two seasons ago we had a dance story called Devotion (寒窑). We introduced the background—a debutante reaching the age of marriage; instead of choosing one of her wealthy suitors she falls in love with a kindhearted man of humble origins. Her father is outraged and banishes her from the family. The newly weds are left destitute and alone, living in a cold cave. And then, the young couple is separated when the husband is sent to war, and the wife, we tell the audience, "eagerly awaits his return… for 18 years."

At that moment, without fail I could hear gasps across the hall and an occasional "Oh my gosh." They were ready to watch the dance.

And here in Indianapolis, we seemed to almost be having a dialogue. Me: "Classical Chinese dance has thousands of years of history." Someone in the audience: "Hmmm." A few minutes later, me: "Unfortunately, you cannot see a performance like this in China." Someone in the audience: "Oh wow." And other variations of this kind of interaction, mostly "um-hmms" and "ahs," laughter and giggling and other fun stuff.

And then… we decided to teach the audience how to say, in Chinese, "I love Shen Yun." So we explain how to say it and then comes the moment of truth: We say: "wo-ai-shen-yun," where, to this point, 1,000 times out of 1,000 times that's what the audience replies. And they did again, except… one man waited a second, then chimed in: "wo-ai-ni!"

That means, "I love you."

Was that for me? Not likely. For my partner, Alice? Maybe, I guess. Was it for the whole company? Or was it just a moment of, 'Hey, I can say this, which is similar, and funny.' And it was very funny.

So then, in the silent seconds that ensued, I had to do some quick math: How many other people in the audience know what this man just said? Is it enough of a majority that, allowing for one standard deviation from the mean, at least 67% would get a retort to that ("Thank you, I love you, too," or "wo ye ai ni," or "wo men ye ai ni," or, "Who was that for?" or, "Alice, it's for you.")? Let's see, 2,500 people, minus 5% Chinese, divided by Indiana…

I decided to go with our usual response, which was great, and let the man's affectionate interjection fade into the ethereal multiverse of live theater, yet be eternally recorded in cyberspace.

Feb 11 - We Hear You, Part II

Now, we don't want you to get too self-conscious when you come see our performance or any other. As you can see from yesterday's post, I really enjoy your spontaneous reactions out there, and the dancers do, too. And these reactions run the whole gamut from laughing to shock to surprise to tear-wiping to explosive applause.

Guess what, though? If you're sitting in the first row, you are very close to the performers. And other than the dancers on stage, right behind that railing in front of you in the pit, are people. They're called musicians and, sort of like Transformers, with their powers combined they make an orchestra. They are only a few feet away. And they have good ears.

So first, a few housekeeping rules that should be obvious, but just like dress code for the theater are no longer always obvious. Our orchestra members ask that you please do not:

• Hang your jacket on the pit railing.

• Comment loudly about the music right in the conductor's ear.

• Place nachos on the railing right by the percussion section (why are theaters serving nachos?)

• Put your bottles, capped or uncapped, or glasses of wine on the pit railing.

• Drop anything into the orchestra.

This should be obvious, right?

Alright, so now to the main part. Here is a little collection of what our orchestra members see and hear from the audience:

• Orchestra members often notice the especially beautiful attire audience members in the first row wear: kimonos and full traditional makeup in Japan, hanbok in South Korea, young boys with bowties and girls in tiaras. A lady with a huge, I mean huge, Afro.

• A little boy who was flinging his arms about imitating the moves of the martial artists on stage.

• A few orchestra members have spotted people in the audience wiping tears during this year's Eternal Elegance.

• Double bass player Juraj Kukan says his favorite part of the performance is the opening scene, when the curtain comes up and the audience's minds are blown away. Their faces show it in unison, along with an audible gasp. Juraj is pretty tall, and he stands up for his double bass, so he has a clear view of the audience. Most musicians, though, don't, they can only hear.

• "Oh, superman!" an audience member exclaimed during one magical scene this year.

• One guide dog barked during applause only.

• In Austin, Texas, after the audience was taught how to say "wo ai shen yun" one audience member added: "YEE-HAW!"

• In this year's The Miraculous Flute, some audience members have said: "Oh, yeah!" and "Go get him!" (If you've seen the dance, you know.)

• In San Paolo, Brazil, when tenor Tian Ge started singing and the lyrics appeared on the screen, one audience member leaned over to the lady next to her and started reading the lyrics to her.

• "Oh, look, an entirely Asian orchestra. Wait, never mind."

• "Look mommy! It's the violins, the big violins, and the REALLY BIG violins!"

Oh, one final note. Should the conductor's baton, in a moment of musical enrapture, leave his hand, fly in the air, and land in your lap. Please return it. You don't get to keep it as a souvenir.

Feb 12 - Solitary PM

Setup day in Rosemont, Illinois, just outside Chicago. Spent most of the day at the theater getting it ready for a five-show run. Here's our production manager, Mark Abbott, during a rare, solitary moment on stage (photo courtesy of dancer Ben Chen):

Feb 13 - Dark Stage

"Dark stage till 6pm tomorrow."

"Dark stage till 12:30."

"Dark stage 5:00-6:00."

The stage manager sends us these messages pretty much daily. What is a dark stage?

Basically it's a time you're not allowed to use the stage for any reason. You cannot stretch on it. You cannot practice a dance routine. You cannot enter the pit to play music. You cannot fix tape on the Marley floor, tighten the legs, move the weights, or adjust the curtain. Do not walk across a dark stage. Do not breath, sneeze, or blink near it. Do not get the entire company in trouble.

I put myself in tremendous personal peril to take the above illicit photo of the dark stage here at Rosemont Theatre. I won't get found out, though, 'cause no one reads this blog anyway.

There's a reason for a dark stage. The stage can be a dangerous place in a break a leg sort of a way. You might trip over something or fall into the pit and land on the timpani. And if you do that, you don't want it to happen when the stage is dark and no one is around to be entertained.

Feb 14 - Philly Tough


I hope everyone is staying warm. In the early morning here it was -3 Fahrenheit (-19 Celsius), and it seems a lot of you across North America had to deal with the same. Wasn't too windy (in Rosemont, we are still 18 miles outside Chicago), and the beautiful thing about spending most of the day in the theater is you don't much notice the weather outside.

We do appreciate, though, the effort you audience members make to brave cold, snow, and rush hour traffic to come see us.

We saw it with the audience here in Rosemont, and we saw it last week in Indianapolis, when couples were holding each other's arms, shuffling through an icy parking lot as snowflakes the size of cornflakes poured down.

And this reminds me of one particular crowd in Philadelphia.

It was a weekday afternoon in 2018, and we were performing downtown at the Merriam Theater. Outside, it was cold—very cold. Philadelphia January ice on the ground cold. Inside, we were warming up for the performance. I was suiting up. Musicians could be heard up and down the halls and stairwells of the tiny backstage. Dancers were stretching and jumping and getting a bit of a sweat going. And then the fire alarm went off.

"What is that, is that a fire alarm?" I asked the conductor over a blend of French horn and trombone. This was not as startling as the five a.m. fire alarm in our skyscraper hotel before a two-show day in Gold Coast, Australia, but that's another story. So, out we went.

Outside, in the small alley that leads to the stage door, a few dancers and musicians had already gathered. Maybe because we assumed this would just be a couple of minutes, or maybe because we were so well trained in grade school to just go, no one really got dressed up properly. Dancers were in thin layers, and string players were blowing on their hands. The whole company was outside in makeup, freezing. For almost an hour.

But around the corner, another line was forming—our audience members. On a weekday matinee, these were mostly retirees, and we could see a line of white heads that stretched from the theater entrance, past our alley, and on to the next block along Broad St.

I stared at them for a while. No one fidgeted and no one left. They just stood there in below freezing weather. Were they just Philly tough, raised like Rocky Balboa, drinking raw eggs before dawn and punching meat in freezers before doing one-arm push ups?

We were well past show time when the alarm—which it turned out wasn't even triggered in the theater but in a connected building—finally stopped and we were allowed back in.

The whole company had a collective: "Now, where were we?" moment. We didn't have experience getting ready for a show that was supposed to have already started twenty minutes ago (unless you count those dreams that everybody has where the show has already started and you can't find your shoes, or your instrument, or your costume, or the theater).

We figured we had about 15 minutes, as the audience had to come in as well. So dancers quickly warmed back up. Musicians put on their bowties and kept blowing on their hands. About 10 minutes in, I grabbed a microphone:

"Ladies and gentlemen, the performance will begin in just a few moments. Thank you very much for sticking with us." And I meant it.

All those white heads freezing outside made it in. Not a seat was empty.

We were both very impressed and very grateful to have an audience like that.

Feb 15 - 'Back Leg Hold'

Between two shows in Rosemont Theatre, dancer Liz Lu (which you have to agree is a cool name) agreed to do her stretching in the middle of the stage so dancer Ben Chen could grab this photo. This technique is called "back leg hold," or ban-zi-jin-guan (搬紫金冠) in Chinese.

Feb 16 - Her Rosemont


Last night, my roommate and I set our alarms to the same exact time, and this morning both went off at the same split second. A few minutes later, slowly getting out of bed, I looked at him and asked:

"As a dancer, do you wake up sore after a two-show day?"

"Yeah," he said.

"Is it lame that, as an MC, I do too?"

We've got one more performance here in Rosemont before beginning our colder part of tour with Minnesota and eventually back up into Canada. It's a 1:00pm show (usually it's 2:00 or even 3:00, or I should say 15:00, in Europe). So everything is pushed earlier. Lunch is now brunch, for example. It also means we'll be back early after "striking" the stage and packing up, and have a quiet evening to enjoy our nice hotel.

Hope you are all having a great weekend. And, if you're coming to see us in Rosemont—make sure you've checked your ticket for the starting time. See you there!

Feb 17 - Teo's Turn


Dancer Teo Yin likes to do this bodyweight exercise before shows. Basically it's a one-arm handstand against the wall, and he says it works core strength and stability.

He seems to enjoy doing it precariously close to the orchestra pit. Sure, the proscenium wall is practically the only place to do this near the stage. But I'm guessing he also gets a kick out of looking upside down right into the orchestral abyss, a daredevil aspect of his personality that you would instantly recognize if you've ever seen him go into a full aerial layout.

And how does a young man from Taiwan end up with the name Teo? Well, his Chinese name is Jingyuan, and up until last year his English name was Leo. Last tour, though, we had two dancers named Leo—this Leo, and another Leo from South Korea. The dancers added to each an initial representing their country of origin: K-Leo and T-Leo. T-Leo decided to just blend it into Teo. As far as I can tell, K-Leo has not yet become Keo.

Feb 18 - Rock Climbing

After a successful run of shows in Rosemont, Illinois, we now have two days off straddling a travel day to Minnesota. On Monday, some of the dancers headed out to a nearby rock climbing gym. It turns out dancers have a distinct advantage at this sport: Not only are they light and nimble, but their ability to do splits in every direction helps them stay close to the wall and reach faraway holds with their feet. Even the first timers had a good time.

Here's dancer Betty Wang with a front split at the top of the wall:

Feb 19 - Rest Rules to Stop By

What is the perfect rest stop on the road?

Here are the parameters: You have a bus (or two) with dozens of hungry people. They are tired. They are weary. They are tired of being weary. They want to stretch. They want to eat. Most of all, they NEED to pee.

You also have male and female, Chinese and non-Chinese, late teens and musicians in their sixties.

Got it? Okay, now go find a perfect place for everyone to stop. Did I mention you're on Interstate Middle of Nowhere Express?

Let's start with what is not a good rest stop for our aforementioned travel day situation. Here are three rules of where not to stop:

Rule #1: Avoid rest areas. These are Official Highway Sanctioned Rest Areas marked by blue signs. They are only good if what you want to accomplish is get everyone off the bus, into the bathroom, and back on the bus in ten minutes or under. Otherwise, they have very little purpose for us, especially since we don't have dogs to walk. They have, at best, a vending machine. You want coffee? Maybe there's a vending machine for that, too, with plastic cups. When was the last time you had good coffee in a plastic cup?

Rule #2: Avoid small gas stations. This is the evil twin brother of the rest area. Not that the rest area is not evil. They're both evil. And twins. And also brothers. Just in different ways. Here you can get lots of snacks, ranging from Mars bars to Snickers and all the Milky Ways in between. But there is one, or maybe two bathroom stalls. And they are not going to be clean when you're on Interstate Middle of Nowhere Express. You like dancing in long lines? This is the place for you. Otherwise, keep going.

Rule #3: Avoid getting off to see what you will find. You see an exit sign and it promises a mosaic of fast-food places. "Let's get off here," you might think, "we'll find something." Oh, you're so naïve. What you'll find is your bus stuck at the end of a parking lot, with the only way out involving a 5-foot clearance on the way to the McDonald's drive thru window. "Hi, can I take your order?" "Yes, just one second. What do all 35 of you want?"

After well over a decade of experience on U.S. highways* we have some advice for some good places to stop.

* Canada and Europe are a little different: In Canada, rest stops are actually little shopping malls with the same exact chains: Burger King, Tim Horton's, Sbarro. If you've seen'em once, you've seen a mall. These have nice clean restrooms and plenty of food options. But in three attempts so far, I have not succeeded in procuring anything from Tim Horton's within the allotted 40 minutes of our usual break.

In Europe it's a mixed bag. To be perfectly honest, I think most of my fellow company members would begrudgingly agree that, by comparison to American options, European rest areas are, and I mean this respectfully, awful. They do have better coffee; I'll give them that. But 15 euros for a cold sandwich? And you have to pay to use the restrooms? And the signs aren't even in English?

In reverse order, here are our recommendations:

Favorite Place #3: Love's. This is a big gas station chain that especially caters to truck drivers and long-distance travelers. It often has sufficient bathroom stalls, a wide variety of snacks and drinks, a selection of hot food like pizza, cheese tornados, hot dogs, and other nutritional food, such as Coke. Sometimes they'll have an attached fast food chain as well, often a McDonald's. Can't go wrong with Love's.

Favorite Place #2: TA. Travel Centers of America. There's not much missing with TA other than the C. In addition to everything you find at Love's, you also have Pizza Hut and Taco Bell, maybe even a small diner, as well as all kinds of crystal souvenirs you couldn't possibly need or not break on your travels. TA's are usually pretty roomy with lots of parking. Definitely a safe choice. If you're ever traveling north from Los Angeles to San Francisco on I-5, there's a big one on the right just after you survive coming down The Grapevine.

Favorite Place #1: Pilot gas stations. These merged with Flying J a few years back. Like Love's, you don't really see them in cities, but you see them a lot if you spend any time on I-10, I-40, I-80, I-90, and so on. They have all the basics you find at Love's and TA, but have a wider selection of coffees. Starting last year or so they even began carrying automatic espresso machines that grind the beans on the spot. Staff is ever-friendly, and I think we may have even found kombucha a couple times. Pilots often have a Subway attached, which is apparently a healthier option as far as fast foods go. Should you happen to have in your group a decision maker, and I'm just hypothetically speaking of course, who feels that a Pilot-plus-Subway is the best option, you might find yourself there on every road trip.

Bonus Rest Stop Option: Walmart or Target. Today, though, we did not stop at Pilot, but at Walmart. A Walmart or Target (dare I say Kmart? Probably not) as a rest stop is not a bad choice. And I'm saying this not only because stopping there today was my idea. It's a great opportunity to get a few errands done while grabbing lunch. There are restrooms aplenty, parking galore, and many food options, including healthy snacks like hardboiled eggs, pre-cut fruit and vegetables, protein bars, and keto chips. You can also supplement whatever you ran out of—toothpaste, deodorant, shampoo, and other items that keep everyone fragrant. These superstores are usually conveniently located right off the freeway for easy on-off access, and are big enough that you even get some leg-stretching exercise along the way. And guess what—this Walmart even had a Subway.

Feb 20 - Condensation

Condensation: The process through which water vapor becomes liquid, often when air cools to its dew point. In other words, the sweaty soda can phenomenon.

Today, in St. Paul, Minnesota, our setup was super condensed.

It began with the last two days, when temperatures here hovered around 0 Fahrenheit (-17 Celsius) and dropped as low as -6 (-21). During this time, all our gear was on the truck parked outside.

Then this morning, we unloaded the truck. We went to the loading dock and opened the lift gate. As boxes started coming out, the theater's stage hands were almost afraid to touch them. You know it's cold when the locals who've lived in Minnesota for decades are suffering.

"Man, that pipe is cold," one said.

"Better not stick your tongue on it," I replied.

And then, I added: "You really feel it in your extremities, your nose, fingers, and toes."

"You have toes?" he replied.

As we started unpacking our gear inside the theater, that is when the condensation began. Everything was coated with a white layer of something that had once ben H20. When the equipment met the warm theater air that was kept at a constant 35% humidity, it started to sweat. We wiped down what we could and used fans to dry some of our electronic gear.

Percussionist Brian Marple snapped this shot of the Plexiglas plate used to divide the percussion section from the harp:

By show time at 7:30, everything was nice and ready as usual, and so began our run of six shows in four days.

Feb 21. The Double Double


Today is the first day of our double-double in St. Paul. We've written about the double-double before—in 2013. And in 2015. And in 2018. Twice.

A double-double is a two-show day and another two-show day back-to-back.

This is, as far as I can tell, the only double-double our group has scheduled this year. A couple years ago they were fairly common. On our 2018 tour we had 11 double-doubles, including seven weekends in a row, mostly in Southern California. As tough as the grind was, I must admit we started getting better at handling them after a while, as even some dancers admitted getting used to them. But they are definitely exhausting for everyone involved.

I suppose it's a matter of perspective. If one day we start having triple-triple-triples, then the double-doubles will seem like a breeze.

This one is a little unusual, as it falls on Friday-Saturday. Before, they were almost always Saturday-Sunday, which meant you most likely had Monday off to recover. This time, though, immediately after the double-double we have a matinee on Sunday. So together with Thursday evening opening night, we have six performances in four days. The record is seven, which several companies have done, usually in the format of: 2, 1, 2, 2.

Our conductor, Milen Nachev, would say we have six shows in a row. He has a unique way of tracking shows. He figures there are two slots a day in which there could be a performance—the afternoon and evening. So if you have a show Monday night and another show Tuesday night, you have shows two days in a row, but you don't have two shows in a row. Follow me? What you have is show, no show, show. So, in our case, we have Thursday night, Friday afternoon, Friday night, Saturday afternoon, Saturday night, Sunday afternoon—six shows in a row.

I like to think of every night as a reset. You go to sleep and it's a new day. So after the first two shows of a double-double, you go to sleep, wake up, and the next day there is no more double-double; there is just double.

Dancer Ben Chen says his reset is a nap. If he naps between two shows, then it's just a one-show day.

All this to say, yes, everyone is a professional and used to performing this much. Well over 100 performances every tour, in fact, and dancers dance their heart out for every show. The same goes for the musicians and everyone else involved.

Still, the schedule waits for no one. A double-double could find you when you have a fever. Or a really sore joint. Or be going through something personally. It doesn't matter. We don't have alternates. At 7:30pm, the curtain goes up. It's like magic—somehow, when it does, everyone is in their places, smiling. And there they are again, a little sweatier, when the curtain finally comes down.

Feb 22 - 'I Got You, Babe'

The intersection of Minnesota winter, an email from Uniqlo with its spring collection, and the second day of a double-double has me thinking about... Groundhog Day.

You've seen the movie. A weatherman played by Bill Murray goes to Punxsutawney, Pennsylvania to report on their Groundhog Day events, and whether Punxsutawney Phil sees its shadow or not. He (Bill, not Phil) is unenthusiastic and goes to sleep at the end of the day. When he wakes up at 6:00am the next morning, it's the same day again, with the radio again blaring: "I got you, babe." He is caught in a time loop and nothing, not even driving off a cliff with Phil, can get him out. Until, that is, he gets the day right.

Here in St. Paul, today's schedule is exactly the same as yesterday's. Wake up at the same time. Get on the bus at the same time. Arrive at the theater at the same time, and go through the same routine. Lunch at 11:50. Make up at 1. Curtain down at 1:30. Gather at 1:45. First show at 2. Intermission at 3. Dinner at 5:20. Second show at 7:30. Say hi to the same receptionist at the hotel. Hear the same greeting from the security guard at the stage door. Put the same bag down on the same corner of the dressing room, and give a high five to the same orchestra member walking around the same corner of the same hallway at the same exact moment.

Then go on stage in the same costume and do the same dances, play the same notes, say the same things.

It's a redundant Groundhog Day whose affect is doubled because of the redundancies inherently built in to the intrinsic and integral redundant schedule of a double-double that repeats itself redundantly. It's déjà vu all over again.

Except it's not the same. Every show is just a little different. The audience is different. The way they laugh is different. Today we had one lady with an adorable high-pitched laugh that cut through the rest of the audience's laughter every time.

Sometimes, during the introduction of the orchestra, the audience can't wait to applaud for every instrument. Harp (applause). Woodblocks (applause). Violin (applause). Sometimes they sit there very quietly, leaning forward literally at the edge of their seats, peering into the orchestra pit, waiting for the one moment to applaud the entire orchestra at the end.

"You recovered from yesterday?" I asked one of the principal dancers as he walked past me in the hall about an hour before the matinee.

"Yeah, I'm fine," he says. "Plus, it doesn't matter. People are waiting."

It's a simple statement, and he doesn't mean it in a sarcastic way. What he means is—I'm good enough to go, and how I feel right now doesn't matter; there are people out there who really want to see this performance and be inspired by it, and so here we go.

Just like yesterday. Twice.

For us—this is Groundhog Day, the same exact day again. For most of the audience—they are, for the first time, seeing Shen Yun. And for them, we will get the day right.

Feb 23 - The Greatest Day

Yesterday was the Greatest Day. More specifically, yesterday marked the 40th anniversary of "the greatest day in USA sports history," according to www.VisitStPaul.com.

February 2, 1980. Lake Placid, NY. The Winter Olympics. The United States hockey team squares off in the semi-finals against the Soviet Union. The U.S. team consists of mostly amateur, inexperienced young players; the Soviet team is built around grizzled professionals with abundant international competition experience and a collection of gold medals. In spite of the U.S. playing on home ice, few expected them to beat the mighty Soviets.

Indeed, in the middle of the third and final period, the Soviet Union, with their red uniforms and CCCP across their chests, led 3-2. But then the U.S. team tied on a power play and found the net once more with 10 minutes left.

The 8,500 in attendance held their breath—if one can do that while cheering—as the U.S. clung to the 4-3 lead. Time after time the Soviets attacked the net and fired shots. With ten seconds left, the crowd broke into a countdown and with five seconds left, the last words of announcer Al Michaels during the game were: "Do you believe in miracles? Yes!"

That game became known as the "Miracle on Ice." Two days later, the U.S. went on to beat Finland in the finals for the Olympic hockey gold medal.

As you can imagine, hockey is kind of a big deal in Minnesota, and the 1980 U.S Olympic team's head coach, Herb Brooks, was from St. Paul. He built his career locally, first playing and then becoming the head coach of the University of Minnesota Golden Gophers hockey team just a few miles away, before becoming the Olympic team coach.

Right outside Ordway Center for the Performing Arts, where we were playing, is a bronze statue of Herb Brooks, his arms raised to the heavens, capturing his reaction to the clock running out on a 4-3 win.

Now, 40 years after Mr. Brooks went back to the locker room and cried, after an unlikely victory that meant so much to a nation following two decades of the Cold War, the City of St. Paul celebrated with the Greatest Day Parade.

* * *

We were getting ready for the first of two shows, but we could see from the cafeteria windows parents and their children in hockey jerseys gathering on the street below. At 1pm, from inside the theater, lighting engineer Peiyi Marple captured this quick shot of the very beginning of the gathering around the Herb Brooks statue.

Feb 24 - Iowa Beach

So we have a situation here. Percussionist Brian Marple is on thin ice with lighting engineer and wife PeiYi Marple. See evidence:

On the way from St. Paul, Minnesota, to Omaha, Nebraska we stopped for lunch and, after days and days of only hotel-theater-hotel-theater, wanted a bit of an outing. What can you do in the middle of the winter in the middle, though slightly West, of the Midwest? Walk on a frozen lake. This is Clear Lake, Iowa:

So obvious how it got the name, right? Right?

First thing off the bus was an epic snowball fight:

From which dancer Jason Pan emerged victorious:

This reminds me of the inspiring movie Breakthrough, if you've ever seen it. Based on a true story, apparently.

And a snowman, meant to look like bassoonist Steven Louie. Can you tell who is who?

And so, take that, all of you on the beaches of Florida, New Zealand, and Las Vegas. We have our own beaches here in Iowa.

Feb 25 - Not Just Fake Donkeys

For years, this sentence I found online confounded me. It is about the yangge dance style: "Some dancers use props like the waist drum, dancing fan, fake donkey, or litter. In different areas yangge is performed in different styles, but all types express happiness…" Wait—dancing with litter?

I mean, dancing with fake donkeys I could see. Dancing with drums and fans? Sure. But dancing with garbage? Maybe this is just a typo that's part of an otherwise Chinglish sentence that includes "dancing fans" (like the Fantasia brooms, perhaps). Maybe they meant dancing while cleaning the streets (à la Mary Poppins' chimney sweepers)? Who knows… So, when I first saw this sentence, I shared a laugh with a colleague, and put it aside.

Until this year. This year, the yangge dance returned to the Shen Yun stage. There are quiet a few styles of yangge, and they're often associated with different regions. This year's yangge comes from Shandong province, also the home of steamed buns, Mt. Tai, and Confucius. Our yangge dance does not include garbage, but it does have litter.

It turns out that, if you go through enough dictionaries, you'll find the following definition. Litter: "A covered and curtained couch provided with shafts and used for carrying a single passenger."

Aha! Bride carrying. It's a little sedan hoisted on poles carried by four men, two in the front, two in the back. The poles rest on their shoulders, and as they walk merrily, the poles, and the litter, and the bride inside, bounce on their shoulders.

Litter carrying is represented in this year's yangge dance. Other moves represent wine drinking and beard stroking but, sadly, no fake donkeys.

Feb 26 - Not Buying It

So apparently the Chinese Communist Party is now trying to use the Coronavirus situation to attack Shen Yun.

South Korea, before Coronavirus broke out there, the theater manager in Ulsan received a call from a television journalist. The journalist told him that the Chinese consulate told him that some Shen Yun performers are from Wuhan. This of course is not true, and the theater manager knew it.

He told the reporter: "Shen Yun is from U.S., and most members are U.S. visa holders. And the Shen Yun show is banned in China, and Shen Yun members even are not allowed to visit China. How come Shen Yun members can visit Wuhan? Don't you ever read News about Shen Yun?"

I love this answer.

Yeah, so just to get this straight: A major pandemic has hit China; we don't even know the full scale of it at this point, but we do know that entire cities are under lockdown, people are being cremated nonstop, and the Chinese economy is in dire straits. What does the Chinese government do? It decides to use this as an opportunity to attack its number one enemy—our show. It's like those movies where the villain is falling off the cliff, and he decides to grab whoever he can with him to go down together.

Good thing people aren't buying it.

Feb 27 - Going After Us With a Virus?

More developments in how the Chinese regime is trying to use the Coronavirus to take down Shen Yun (see yesterday's post below).

Apparently they managed—we don't know how yet, presumably through the Chinese embassy and consulates in the U.S. and their various spy organizations—to reach some group of Chinese in Salt Lake City and get them all worked up about Shen Yun coming to Utah.

These Chinese residents of Utah then started spreading rumors that Shen Yun performers might have Coronavirus and the shows should be cancelled. It got so bad that the Utah Department of Health, which was the recipient of many of these calls, issued an official statement on its Twitter account:

"We are aware of several rumors regarding the Shen Yun dance troupe performances in SLC. We have investigated them and have no reason to believe that any members of the Shen Yun dance troupe are infected with COVID-19. These performances pose no risk to Utah residents."

Utah Department of Health spokeswoman Charla Haley added: "We heard some rumors that were going around in regards to the Shen Yun troupe, and we just wanted to make sure people knew it was safe to go to the performance, that we weren't worried about any of the dancers having coronavirus."

That's not it, though. Some Salt Lake City Chinese started calling the TicketingBox hotline, which services Shen Yun's shows, and demand that the shows be cancelled. In a recording I obtained from them one caller demanded to know which Shen Yun group was going to which city, and that Shen Yun's shows be cancelled. When the hotline representative said they are not able to make that decision, this person became antagonistic:

"We will not let you performing. We will not let you in. You want to be stuck in the airport? We will send you back."

Later the same day, another woman from Salt Lake City called and conveyed the same message about cancelling the show. The TicketingBox representative, Al, said he would pass her message on to the local presenter and asked for her number. This woman gave a different call-back number from the one she was calling on. That number, was the same as the first above.

There were other calls as well. Seems like a pretty concerted effort.

Feb 28 - Walking West

Setup day here in St. Louis, the Gateway to the West.

As we walk to the Stifel Theatre in the early morning, we get a view of the Old Courthouse and the Gateway Arch, celebrating Lewis and Clark's westward expedition.

Feb 29 - CCP Girl Talk

More evidence is coming in that there's an organized force behind attempts to sabotage Shen Yun by linking it with Coronavirus.

Today, while having lunch in our green room before the matinee, the local presenter, whom I've known for many years, told me a story.

A few days before Shen Yun came to town, she said, a Chinese friend of hers showed her a message on her phone. It was a group message on WeChat (WeChat is a Chinese app that's like a WhatsApp, Facebook, and PayPal combined). The group, which consists of all Chinese members, is called "St Louis Girl Talk (女人缘)." And the topic of the day was—work together to stop Shen Yun.

"We have five days left to think of a way to stop them from performing," said a group member named Rebecca.

Another lady, named Liu Qimei, talked about how she called and spoke with a lady at the CDC. "I told her to work with Stiffel threath (sic) to cancel the event. I will follow up tomorrow with her and in the same time, tey to talk to tje (sic) director of the Cdc here."

Messages from several other people were along the same lines.

But here's the cool part. The local presenter then picked up the phone and called the theater manager, whom she's had a working relationship with for years. "You're going to start getting some phone calls," she said, "from Chinese people who are being mobilized to try to scare you to cancel the show."

A few hours later, the manager texted her: "5 minutes after I got off the phone with you, I got my first call about it." Of course, he knew what to do.

And Shen Yun had two performances here today.

March 1 - Table Tennis Titans

Our orchestra has been called "the perfect harmony of East and West." Well, today, only moments before the final performance in St. Louis, two key members of orchestra engaged in "the perfect clash of East and West."

Conductor Milen Nachev, representing Bulgaria, and double bass player Yu Deng, representing Canto-China, go head-to-head in a backstage ping pong match.

It got pretty intense there for a while.

Aren't these some of the best-dressed table tennis players you've seen?

March 2 - One Leg Done

After three performances in St. Louis, we're heading back north of the border for performances in Winnipeg Monday and Tuesday. It's a bit of a long drive, so we've broken it up over two days. We arrived in Iowa City late last night with just enough time to check in, get a few hours of sleep, and be on the bus so we can drive away again at 7:00am.

That didn't stop the dancers from getting their work in. When projectionist Regina Dong woke up in a daze some time between 5:00 and 6:00am (she's still not sure when because that's how it is on long road trips) THIS is what she found outside her door:

This is Dancer Zizhen Yu, known affectionately as Zhen-zhen, doing her daily stretching routine. And she seems to be enjoying it!
March 3 - Made in the USA
Shen Yun is from New York. We've always been from New York. We've always said we're from New York.
But judging by what some media are saying now, you would think that the fact that we're saying we're from N.Y. is big news. A paradigm shift. A marketing pivot. A new strategy.
After we issued a press release (link) clarifying that Shen Yun is not from China, performers live in the U.S., and no one has been back to China in a while, therefore we have nothing to do with Coronavirus, a few media outlets treated this like it was a break from what we've always said.
If you're not paying very close attention this can all be confusing. I get it.
'So, let me get this straight: Shen Yun is a performance of Chinese culture, a celebration of Chinese civilization, but you're not from China. But the performers are Chinese, but not Chinese-Chinese, or they were Chinese-Chinese but are now U.S.-Chinese, or from Taiwan, which is part of Chinese culture but isn't part of China today, and in this show you see real Chinese culture but you can't see the show in China?'
Yes, right. It's simple.
Here's the basic logic:
Chinese civilization has a history of roughly five thousand years.
The culture of this civilization has been almost completely destroyed over the last seven decades of Communist Party rule. Some surface traditions remain, but the spiritual essence is gone.
Shen Yun was established in New York in 2006 with the mission of reviving this culture through performing arts.
The artists of Shen Yun are mostly ethnic Chinese from around the world, including from China.
Once they join Shen Yun, they basically cannot go back to China as individuals.
Shen Yun as a company cannot perform in China.
The Chinese Communist Party, through its "diplomatic missions," as well as spy networks and associations, has been trying to sabotage Shen Yun since the very beginning and never really stopped.
None of this is new. We've been saying all of this since the beginning.
On stage, MCs like myself say the following lines in every – single– performance:
"Shen Yun is based in New York. These performers are among the world's top classical Chinese dancers. They receive their training at the New York-based Fei Tian College and Fei Tian Academy of the Arts, where classical Chinese dance is the foundation of their training."
We also say this:
"Shen Yun's mission is to revive genuine traditional culture. Unfortunately, you cannot see a performance like this in China."
On our website, the first paragraph under the About section reads:
"Shen Yun Performing Arts is the world's premier classical Chinese dance and music company. Shen Yun was established in New York in 2006 by elite Chinese artists. They came together with a shared vision and passion—to revive the lost world of traditional Chinese culture and share it with everyone." 
And we go into it in more depth in Our Story section.
And even our print marketing materials—flyers and direct mailers—have included anything from a sentence to a whole spread about this.
For example, opening literally at random, this flyer from 2013:
"AUTHENTICALLY CHINESE, MADE IN AMERICA. Based in New York, Shen Yun is a nonprofit organization that is reviving authentic Chinese culture. Today, you can no longer see a show like Shen Yun in China."
I could go on with this for a long time. We've always explained this in interviews on TV, radio, newspapers, and magazines, for example, and we've done a lot to expose how the Chinese regime has tried to stop us for precisely this reason (more on this in a day or two).
It's just that with the recent climate of COVID-19 and, even before that, a growing anti-China political sentiment in the U.S., we've had to emphasize this point in ALL-CAPS. And BOLD. Maybe even PURPLE.
March 4 - Waited 10 Years
After a day and half driving over 1,000 miles from St. Louis, back through Minnesota, and across the border into Canada, we arrived at very snowy Winnipeg.
"Have we performed here before?" someone asked. "I think Shen Yun has, but I don't know if I have," someone answered.
In the morning at the theater, our bass, Li Xin, pulled out his camera. "Here, look at this photo," he says, "I'm pretty sure it's this hall. I take pictures of every venue I perform in. I was here 10 years ago."
It had been 10 years between Shen Yun performances in Winnipeg, the capital of Manitoba province. Over those years the local presenter, the Falun Dafa Association of Winnipeg—which is really just a couple of people, tried over and over to bring Shen Yun back. Between scheduling difficulties and availability, a decade went by.
Just to give you a sense of what has changed with Shen Yun since the last time we were here: In 2010 we didn't have Shen Yun Symphony Orchestra or Shen Yun Shop. The main theater where we rehearse in New York was not yet built, nor were most of our offices and dance studios. Our colorful buses were plain white. Conductor Milen Nachev was still two years away from joining us. Most of the performers in this group were wrapping up elementary school or at most junior high. I had more hair. A lot has changed.
And finally, they got Shen Yun back in Winnipeg. For one performance.
Volunteers came in from as far as Toronto to help with catering, ticketing, and backstage work.
And the tickets sold well. They sold really well. They sold so well that, just weeks from opening night (which I guess is also closing night), they asked if they could add another show the day before the scheduled one. In spite of the tight travel calendar, the show was added. But the real difficulty would be quickly selling a couple thousand tickets in a relatively small market.
As we set up for the first performance, the local presenters, in all their humility, apologetically warned us—this was a last-minute addition, ticket sales are not what we would like, and so on. But as the curtain came up, the house looked pretty full. They did it.
We have a tradition that, after the final performance in a city, after we strike the stage and get ready to go, we gather in the cafeteria to thank the local presenters and volunteers.
Their representative, and I'm sorry I don't know his name (we rarely do), said: "A lot of people have been waiting for Shen Yun to come to Winnipeg. Finally you arrived. We hope we don't have to wait another ten years for the next time."
March 5 - 305
Today is March 5, and it's an important date to know.
About ten years ago we were performing in Brussels. I was backstage working on my laptop when our company manager, Vina Lee, walked by.
"Did you hear? Liang Zhenxing just died," she said to me in Chinese.
I hadn't yet heard. I knew that, of a small band of brothers who set out to do something remarkable, he had been the only one still alive. Now he, too, was gone.
His story goes back to early March 2002. In northeastern China, in a city named Changchun, the persecution of people who practice Falun Gong (Falun Dafa) was at its manic peak. Three years into the Chinese Communist Party's persecution campaign, Falun Dafa had not been crushed. On the contrary, facing mass arrests, widespread torture, forced labor, and mounting deaths in custody, Falun Gong practitioners from all across China traveled to Tiananmen Square and held banners holding the words "Truthfulness, Compassion, and Tolerance," the practice's principles. Others hung banners on trees, posted flyers, or flew balloons with messages dangling beneath them.
"Falun Dafa is good," they would often say. "Stop the persecution."
But the machinery of the Chinese Communist Party was relentless. Well-oiled from decades of similar campaigns, most notably Mao's Cultural Revolution, the propaganda apparatus churned out story after story trying to link Falun Gong to every social malice. On every evening's news, people who practice Falun Gong were depicted as insane and dangerous. They were demonized to the degree that if friends and family caught their loved ones meditating, they would turn them in to the police.
It was then that the band of brothers—Liu Haibo, Liu Chengjun, Lei Ming, Liang Zhenxing—decided to try something different. Instead of going to Tiananmen Square for ten seconds of banner holding followed by three years in a labor camp, they would take the message directly to the people. They would debunk the Party's propaganda. They would show the people of Changchun how Falun Gong is practiced freely around the world. How the "self-immolation" was staged. How everyone was being lied to.
Their plan, and the execution of it, is beautifully depicted in Ethan Gutmann's article "Into Thin Airwaves" which later became a chapter in his seminal book: The Slaughter.
They trained and taught themselves how to climb telephone poles, splice wires, and connect transmitters. And then, in the evening of March 5, 2002, during prime-time television, as families across Chanchun sat down for their daily dose of state-run propaganda, the screen went out for a second. Then a new program appeared.
For 50 minutes the veil of official narrative was lifted and a very different reality was broadcast across eight channels to over a million people. Police ran frantically trying to find where the broadcast was coming from. People crowded around TV sets in convenient stores to watch. For 50 minutes, this little corner of China was free.
The small band of brothers knew what this would mean. They also knew what it would cost. One by one they were captured, tortured, and killed.
Police barged into Liu Haibo's home, broke his ankle in front of his wife and toddler, dragged him to the police station, and shocked him with an electric baton until he died a few hours later.
Liu Chengjun was shot in the leg while running away, sentenced to 19 years in prison, and died of injuries within a year.
Lei Ming was captured the night of the broadcast. He was bound to iron chair and tortured. He died of spinal injuries three painful years later.
And Liang Zhenxing, the leader of the small group, was put on a show trial and sentenced to 19 years in prison. There he was shocked simultaneously with multiple cattle prods and shackled for long periods of time. By 2010 he was emaciated and could barely walk or talk. He passed away on May 1, 2010.
* * *
I've met a few people from Changchun who knew these people, knew their stories and what they were like as men. They call the March 5 (3/05) broadcast "305." It's my hope that this day will be remembered and, one day, celebrated across China.
The above abbreviated version of the story doesn't come close to doing it justice. For the full description, which is action-packed and based on detailed interviews with those people who knew the 305 group, see Gutmann's article: Into Thin Airwaves.
March 6 - Easy Days
Our schedule is not so bad. It really isn't. We've got a bit of an intense stretch, but even that, by comparison (in just a moment) is not so bad.
Day 1: A 15-hour bus ride from Winnipeg, Manitoba, to Edmonton, Alberta.
Day 2: Early morning setup (leaving the hotel at either 5:20 or 7:15, depending on your role) and working all day and into an evening performance. That's today.
Day 3: A noon (noon?!) performance. Followed by strike. Followed by a three-hour drive to Calgary. Somehow there's a Korean BBQ stuck in there somewhere.
Day 4: Early morning setup (leaving at 7:15 or 5:20) followed by an early evening show.
That's a sample of what life on tour can be like, and the challenges it presents for everyone: long bus rides, long days, and new cities on back-to-back days.
But, like I say, it's not so bad by comparison.
It's a lot like minor league baseball life, for example. And it's not nearly as intense as the Negro leagues.
A century ago, the all African-American baseball leagues had a much more intense schedule than we do. Players would often play one game in one city, then hop on the bus and play another game in another city the same day. Sometimes they would even play a double-header in one city and then another double-header in another city, or even two other cities, making it a seemingly impossible six games in three cities in one day.
Our schedule is not as intense as what famous tenor Guan Guimin once told me his schedule had been. In the 1980s, Mr. Guan was touring with a performing arts troupe. People around China had just come out of the Cultural Revolution and were hungering for some entertainment. So his company would arrive in one town, setup a makeshift stage, perform for an hour or two, then drive to another city and do the same. It wasn't uncommon for them to be in five towns in one day. Performances started at all hours: 3:00am shows, 5:00am shows, you name it. He said some singers were in such a daze that they would go on stage, entirely forget their lyrics, mumble something unintelligible, and walk off to have another drink. So our schedule is not as bad as that.
Our schedule also isn't as tough as the classic production, the timeless premier performance that has stayed relevant for literally months. I'm talking, of course, about Baby Shark. The Baby Shark Live performance is in a different city every single day. Here's an example off their website:
March 12 - Appleton, WI
March 13 - Dubuque, IA
March 14 – Peoria, IL
March 15 – Ralston, NE
March 16 – Sioux Falls, SD
March 17 – Grand Forks, ND
March 18 – Rapid City, SD
March 19 – Colorado Springs, CO...
Our trip is quite easy by comparison to Tang Sanzang's, who trekked on foot from China to what is now known as India (and back) on a journey that took him 17 years and inspired the classic novel Journey to the West. He didn't even have the benefit of Pilot gas stations.
Our schedule is a piece of cake compared to Navy S.E.A.L.S' hell week, which consists of basically no sleep, running around carrying heavy objects, jumping in and out of the ocean, and being yelled at for five days and nights straight. And they don't have thousands of people clapping and cheering for them every night.
Our schedule is a walk in the park compared to any soldiers out on the front in any time and any place in history. It's a breeze compared to first responders in the days following an earthquake.
Our journey is much smoother than Steve Martin's in Planes Trains and Automobiles, more colorful than Mr. Smith Goes to Washington, and makes way more sense than Citizen Kane.
So what I'm going to do now is get up from this comfortable sofa, grab a snack, and then get back to work in this nice warm theater in the middle of our easy peasy tour.
March 7 - Across From the Butter Dome
Snow, snow, everywhere. We are on our second day in Edmonton, Alberta.
Edmonton, you'll be happy to know, is a city 1,403 miles from the North Pole. It is only 99 miles from the Arctic Circle. And, like all cities, is 0.2 miles from Starbucks.
This building across the way from the theater is locally known as "The Butter Dome."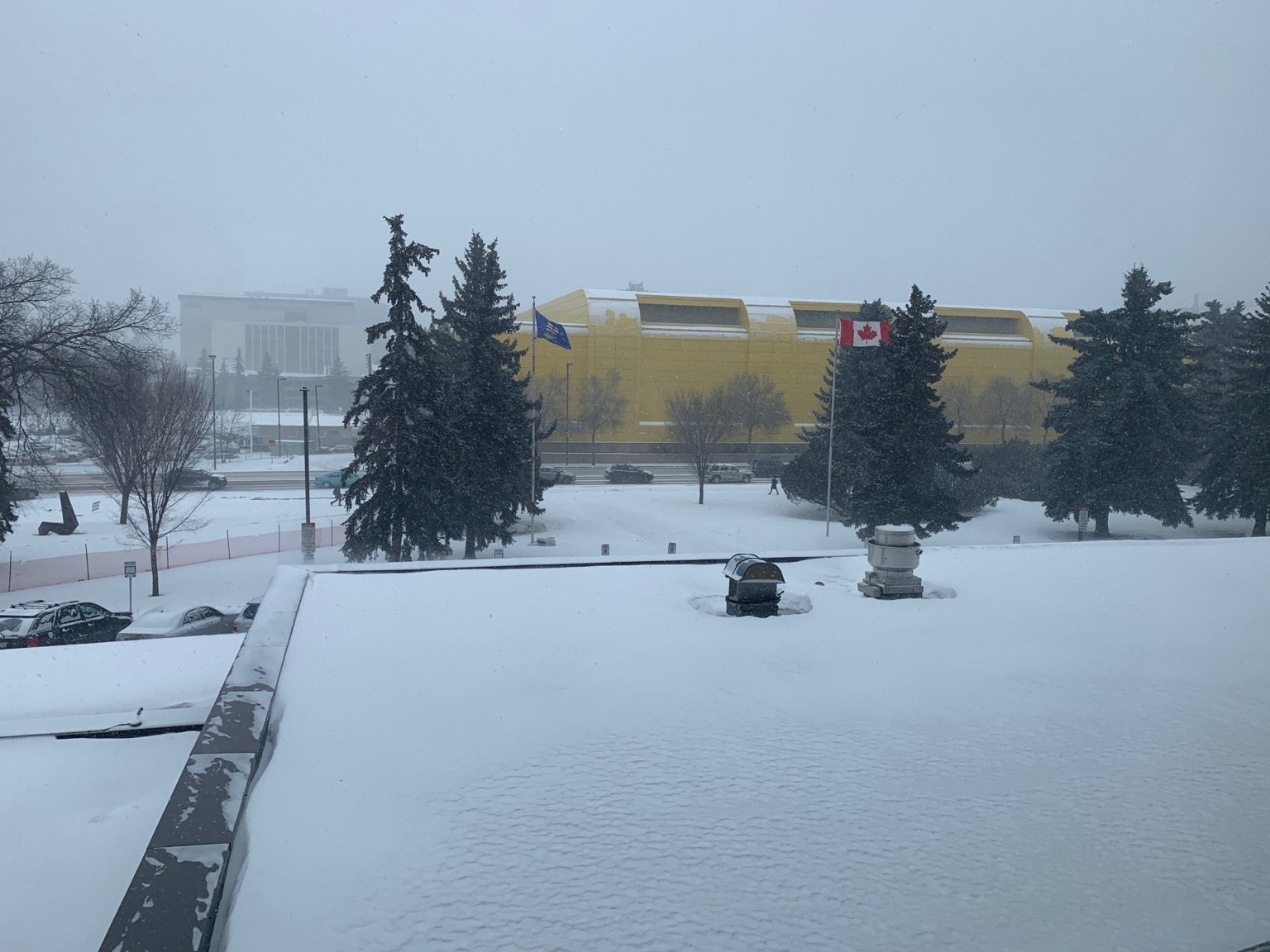 March 8 - The Jubilee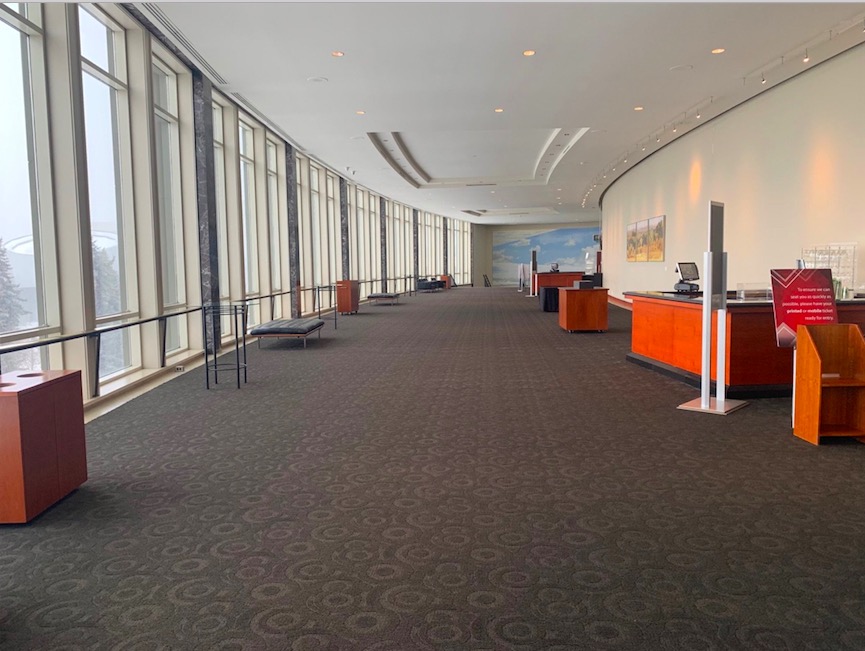 March 9 - Compare and Contrast
Edmonton Jubilee: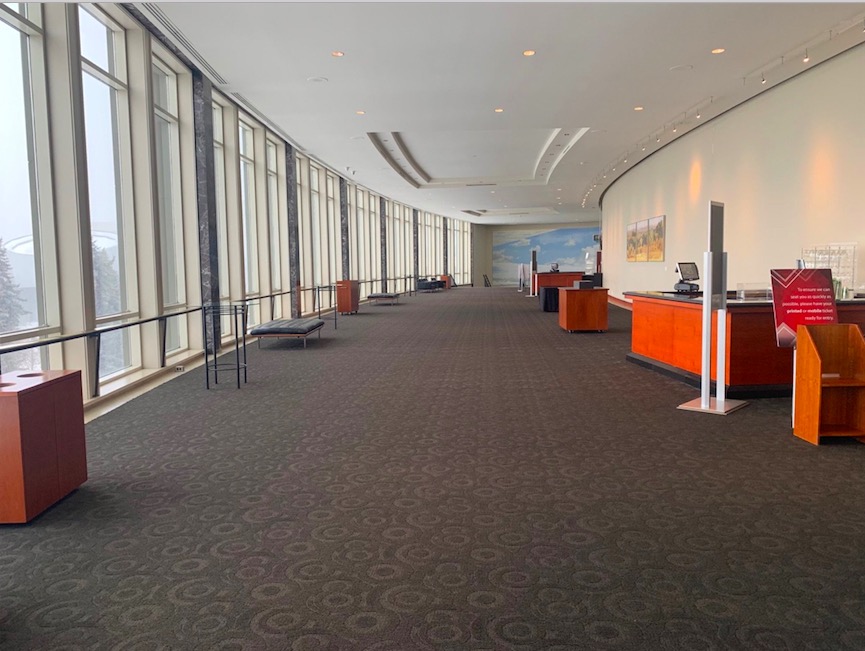 Calgary Jubilee: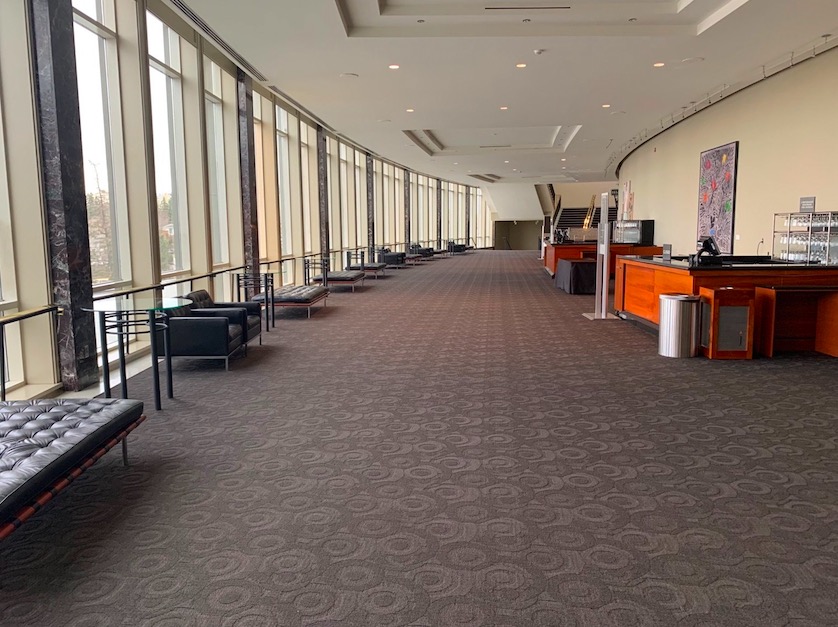 The morning we arrived in Calgary. Before dressing rooms were assigned, all I had to do was just walk back stage, follow the same staircase, go through the same door, make a right down the same hallway, and then a left, and into the same dressing room. Everyone else did the same. I then went up to the stage to look at the hall. Exactly the same as the day before in Edmonton.
NAJA and SAJA. Two jubilees. They are identical twins wearing matching jumpsuits, sneakers, and sunglasses. It's kinda cool.
Also, the theaters are called the Jubilee. Or the Jube, for short.
March 10 - Spot the Difference
Let's play: spot the differences. These photos are brought to you courtesy of dancer Ben Chen, starring dancers Bill Xiong and Shawn Ren.
Edmonton Jubilee dressing room: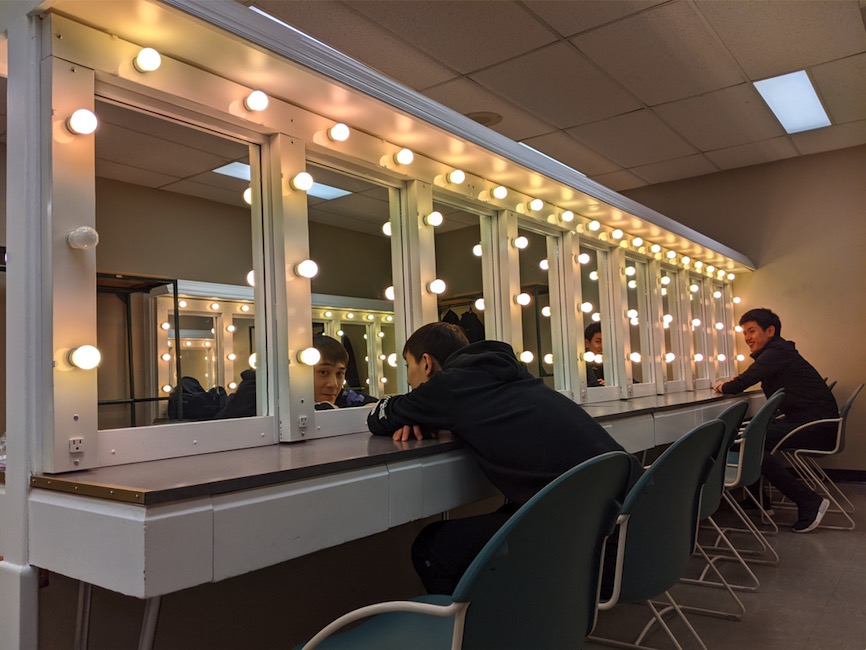 Calgary dressing room: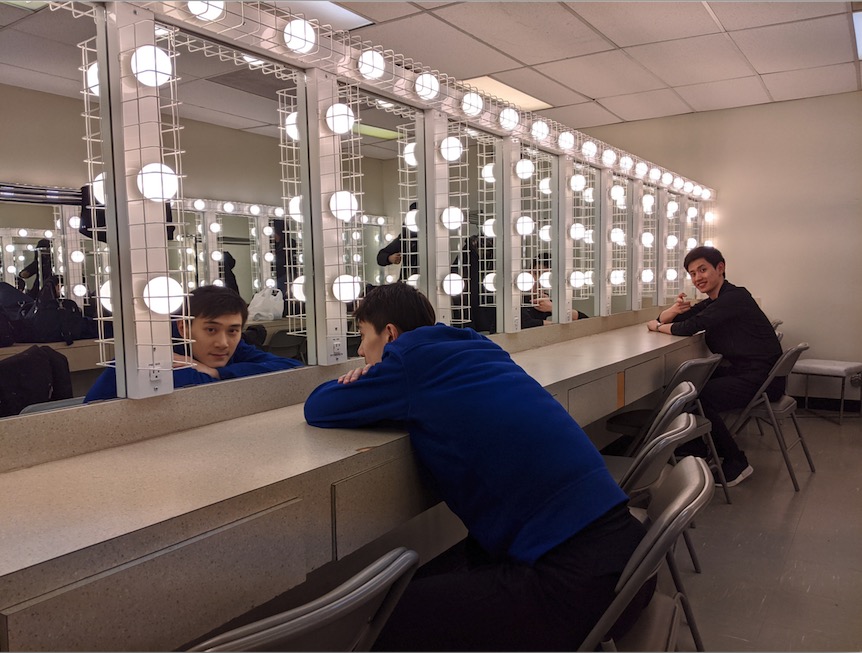 Edmonton Jubilee barre room: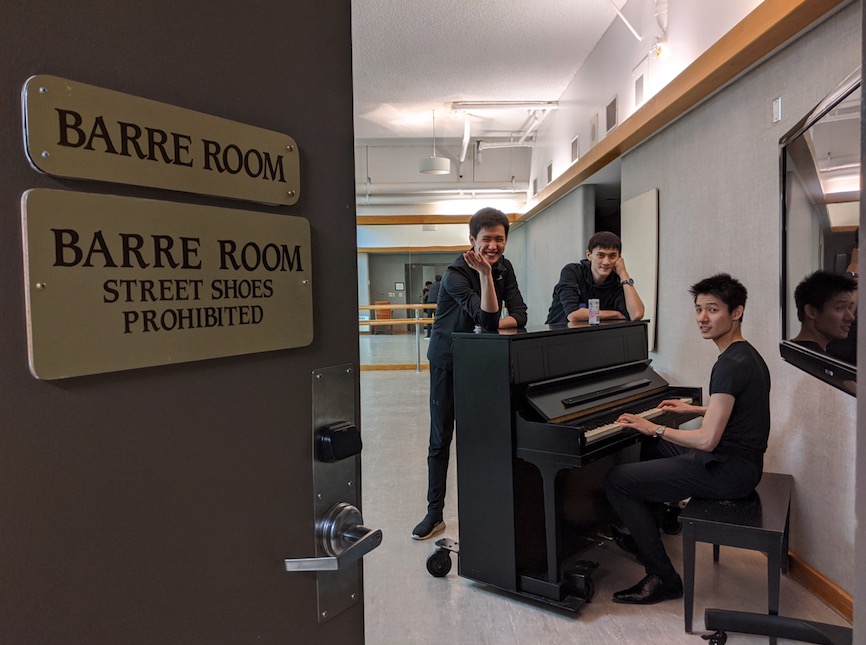 Calgary barre room: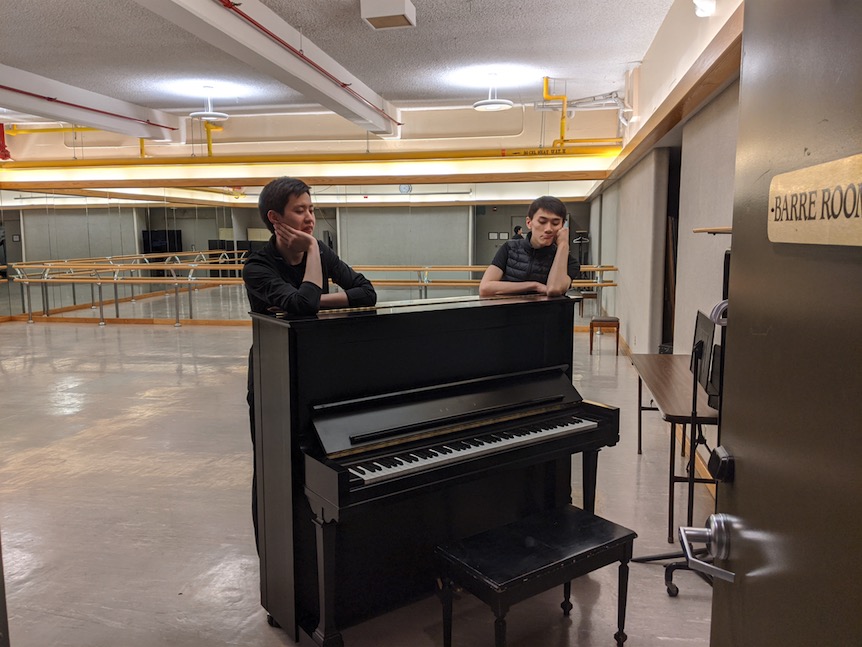 Edmonton green room: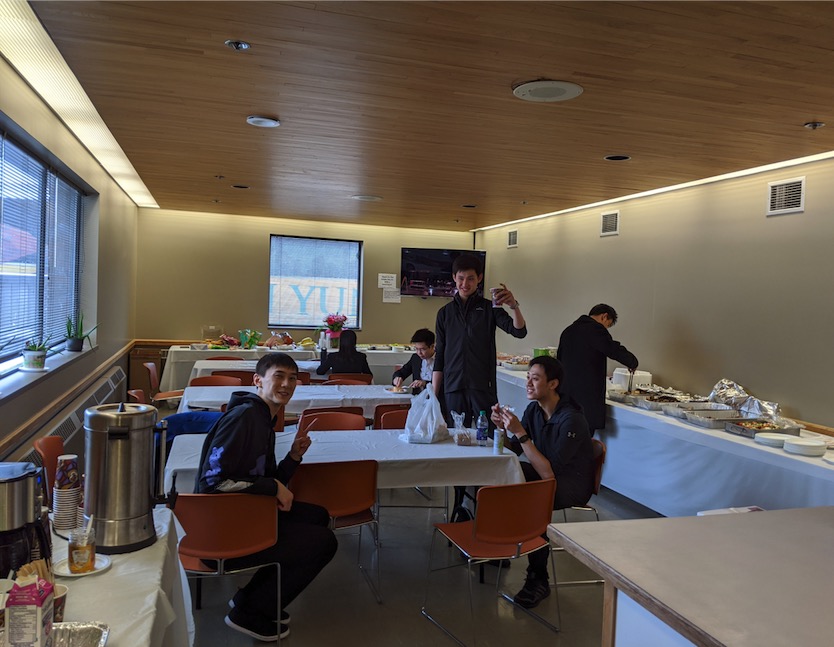 Calgary green room: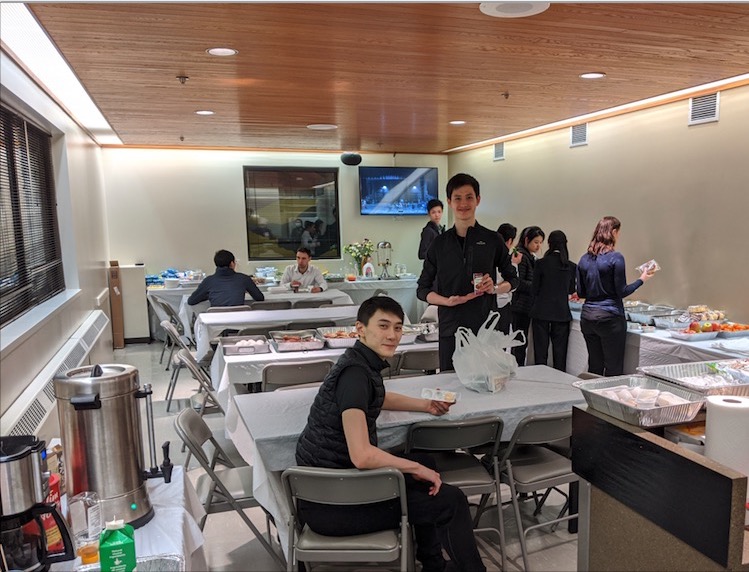 Edmonton loading dock: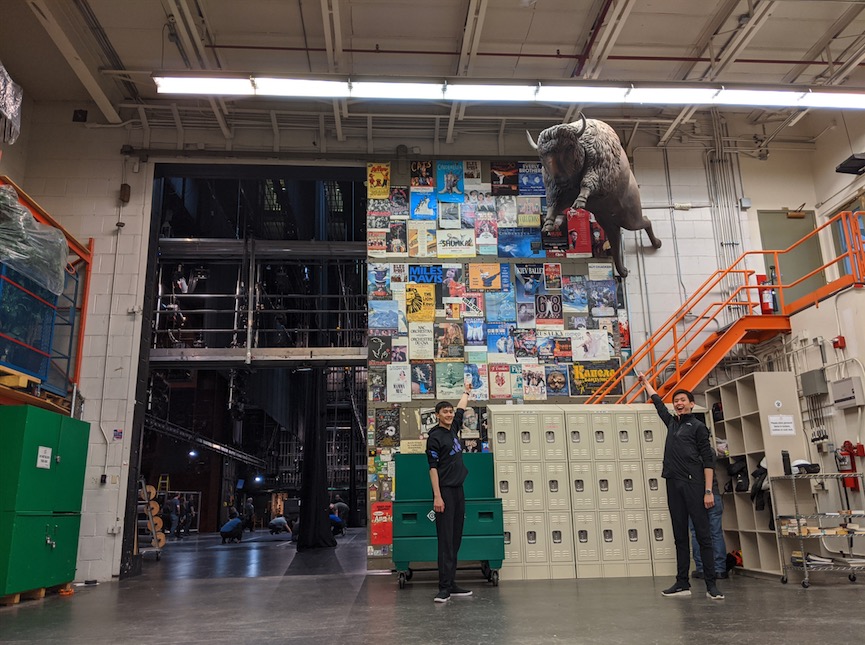 Calgary loading dock: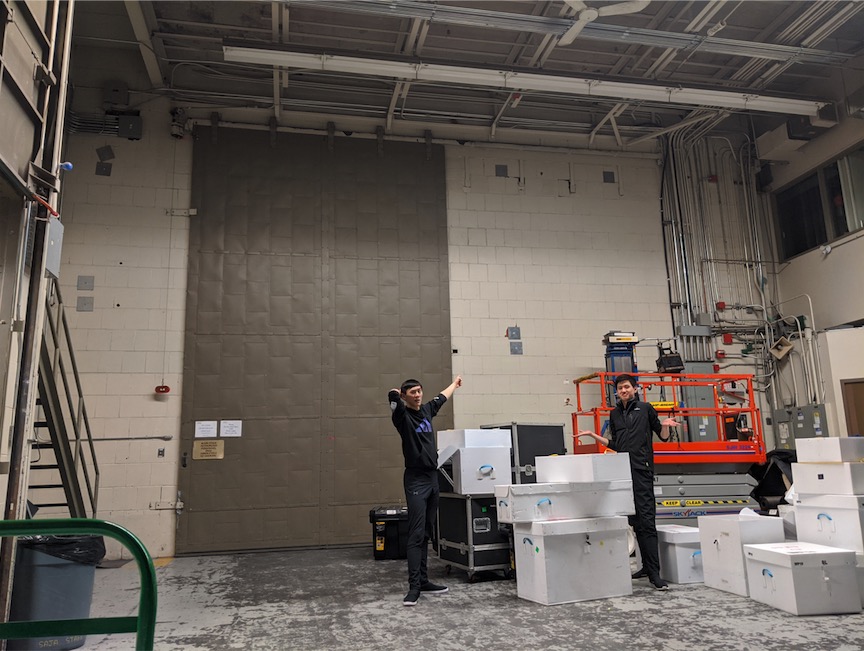 Edmonton orchestra level seating: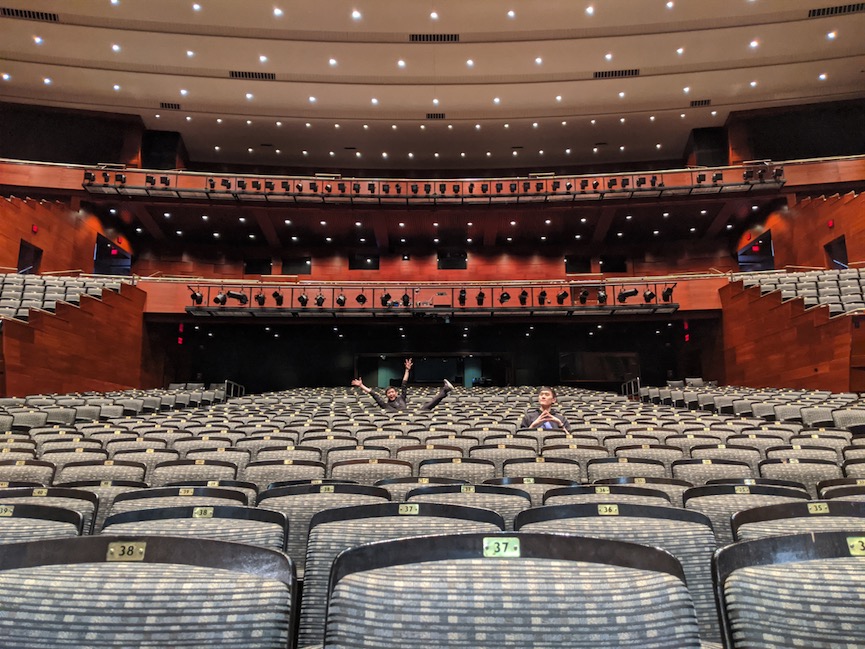 Calgary orchestra level seating: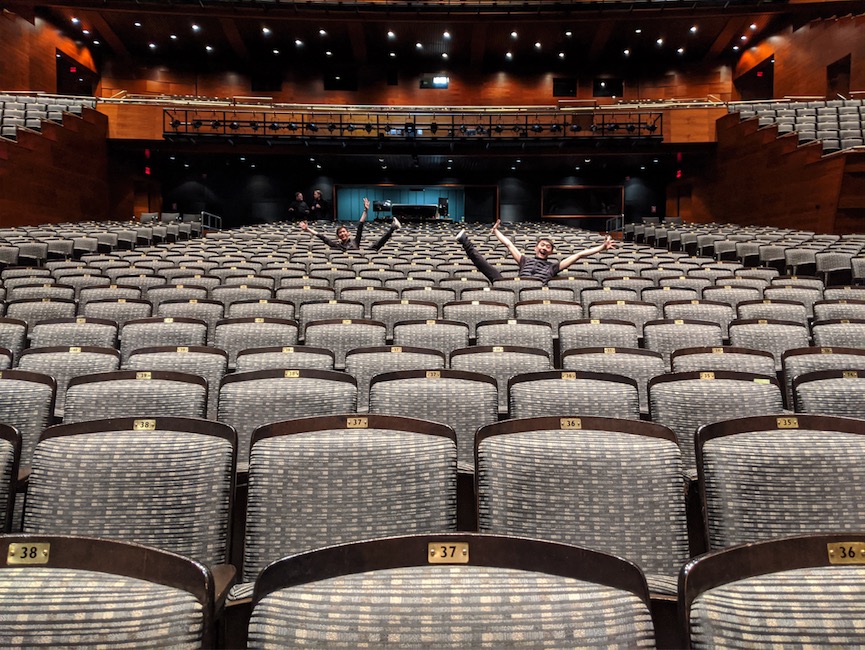 Edmonton entrance: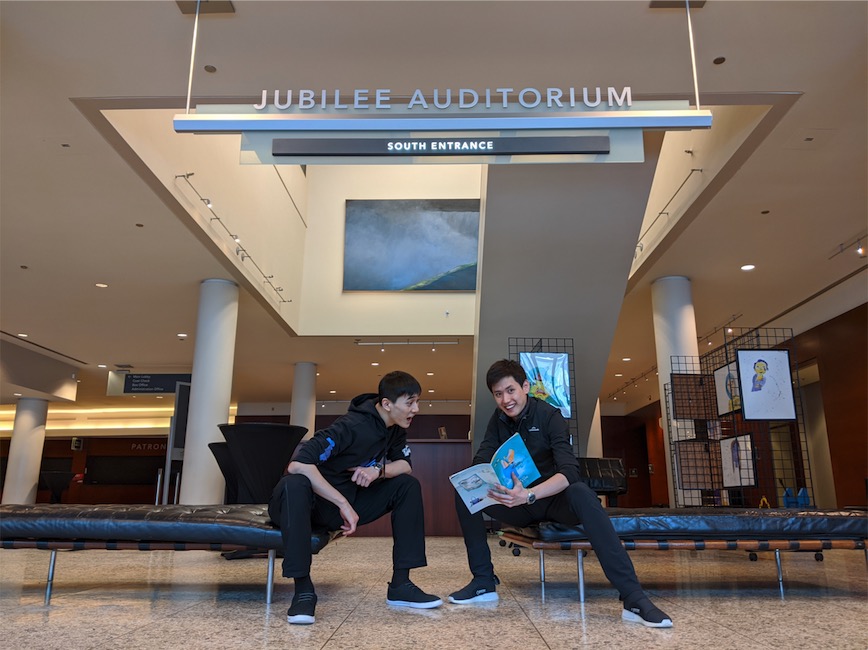 Calgary entrance: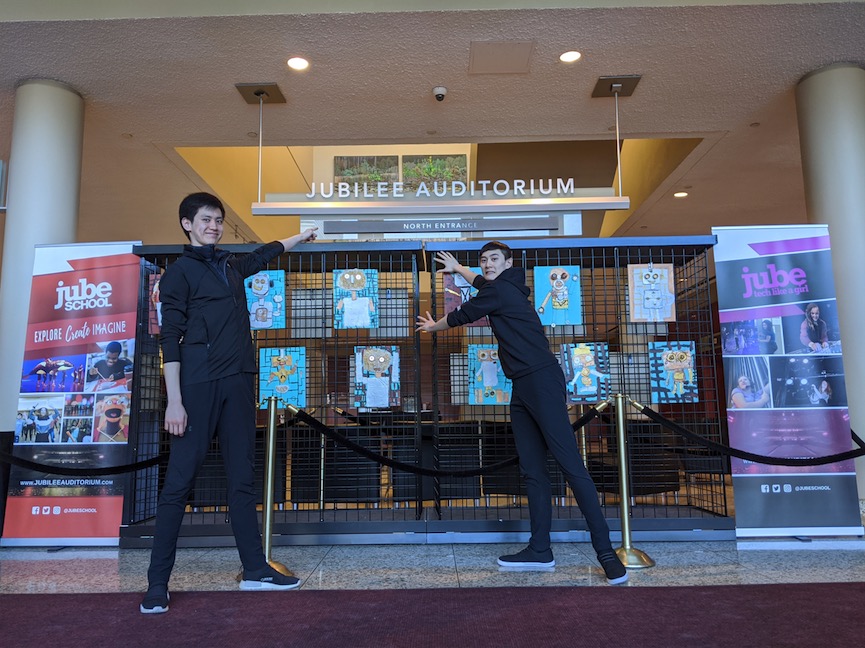 Edmonton staircase wall: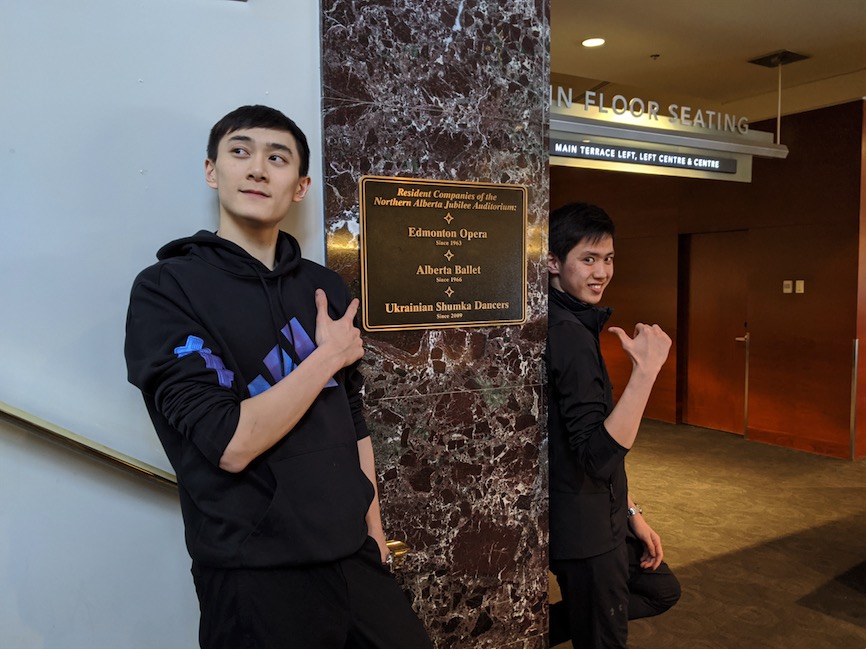 Calgary staircase wall: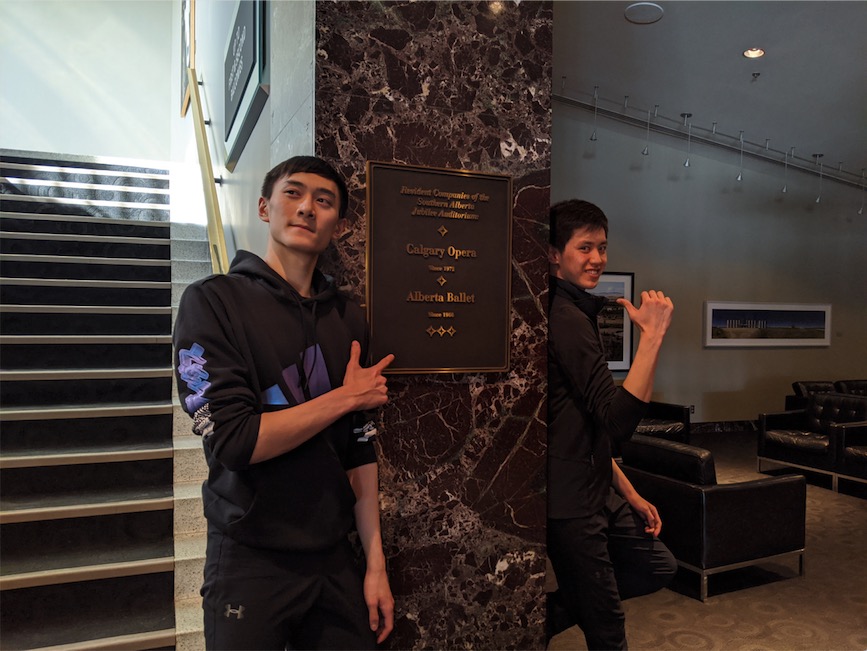 Calgary staircase wall - one floor up. We found a structural difference!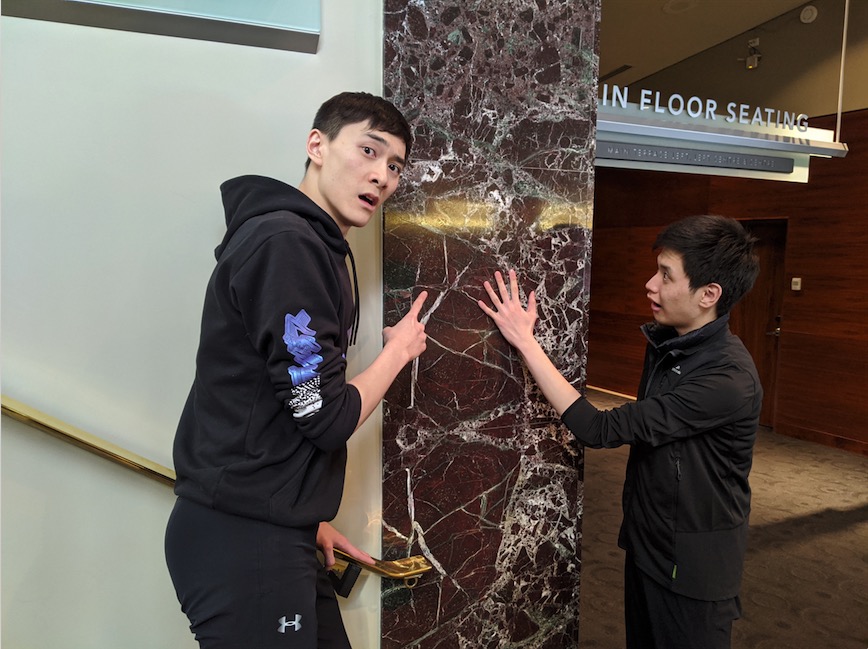 March 11 - White Hatted
Before leaving Calgary for Vancouver, we have a story to tell.
It was May 2007, the very end of Shen Yun's first world tour. It wasn't even called Shen Yun in English then. It was called Divine Performing Arts. A few of the dancers back then are still performing today. Blogger Betty Wang was one of them. As was dancer-choreographer Michelle Ren. I'm mentioning her for a reason—just give me a second.
Many things were constantly in flux that first year, including the program order and the performers. We had one performance for the U.S. holiday season, called Holiday Wonders, another performance for the Chinese New Year, and yet another performance for the tour itself.
We truly had a whirlwind tour across the globe, covering four continents in six months. We started in the U.S., went to Canada, came back. Then we flew to Europe for the European tour, which that year consisted of two cities—Paris and Berlin. From there it was on to Asia, but not before stopping "on the way" in Chicago.
That stop was eventful, as on the way in our plane was struck by lightening. I remember seeing the bolt flash outside the window, the lights in the cabin instantly go out, the sound of the engines stop, red emergency lights flicker on, the plane do one of those rollercoaster gravity-suspensions where you hover for a second then drop while still horizontal. Then, the lights and the engine noise came back on and the flight continued. That whole thing took maybe 2 seconds.
It actually proved to be good material. Opening night in Chicago, MC partner Zhou Mei and I came on stage and said:
Leeshai: Ladies and gentlemen, welcome! It's so great to be here in Chicago! Especially because on our way in yesterday, we were delayed coming into O'Hare, circled around Lake Michigan five times, and were hit by lightening.
Mei: Which is a sign of good luck!
Leeshai: Maybe in Chinese culture...
From Chicago, we flew to Japan and performed there half-groggy the next day (or was it the day before?). We continued on to Australia, New Zealand, Taiwan, South Korea, and then... Calgary.
In Calgary, we were welcomed at the airport with flowers and signs and cameras and such. Except, this time, there was also an official city representative to greet us.
Deputy Chief Executive of the Calgary Tourism Bureau Joe Connelly, on behalf of the Mayor of Calgary and the city government officiated a little ceremony.
First, he awarded Honorary Citizen Titles to our soprano Feng Ming, tenor Guan Guimin, and choreographer Vina Lee.
He then issued Certificates of Honorary Citizenship and presented each honoree a white cowboy hat.
Now, as great as the Internet is at remembering things, it was pretty hard for me to find the news from that welcome. But eventually I did. The photos really give you a sense of how long ago this was. They're not quite black and white, but they're definitely pre-iPhone SE 12MP cameras.
So here are two photos. In the first, you can see all the Shen Yun performers who were honored, although I can barely make out who's who (maybe a fun online contest?). In the second, though you can recognize Michelle Ren.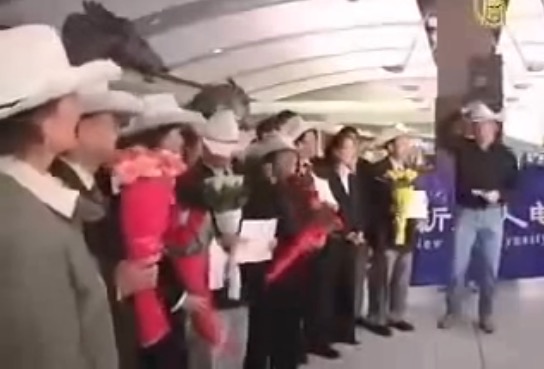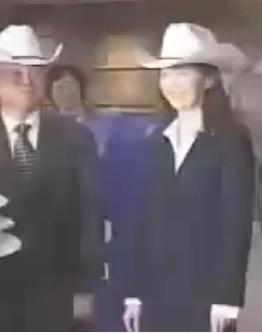 All the performers then gathered behind the honorary citizens who had just been "white hatted," and, following Connelly's lead, looked at the cameras, doffed our hats (real or imaginary), and yelled: "Ya-hooooo!"
That footage has got to be somewhere...
March 12 - Last Post?
We're in Vancouver. And...
Today, at 7:30pm our production manager sent out a schedule for tomorrow's load-in: 7:45am leave hotel, start setup at 8:00am, sound check at...
At 8:38pm he sent out this message: "Can everyone please come to the food room now?"
Five minutes later we got the news—Vancouver shows are canceled. We're going home.
Is the rest of tour is canceled? Don't know.
Because of the virus? Yes. All public events in the city are shut down.
What about us going to Europe? Don't know.
What about the other groups? Don't know.
Oh, and dinner is here. You can go eat now. And pack snacks for four days on the road.
So... this may be my last blog entry, at least for now.
Post-Blog Script
Still not sure what to make of this, or what's ahead. I do know we'll be back. I'm hoping it's very soon, but clearly something big is going on. Into the unknown then...
I really want to thank all of you who've followed this blog.
To be honest, when we first started I didn't know if anyone would want to read this. It even seemed a little indulgent. But your comments have been truly encouraging. They've showed me that, at least among our Shen Yun fans, people want to get to know our artists better. You want to get to know these dancers and musicians as people, to know what they are like and what life performing and traveling every day is like for them. There's a lot of joy in what they do, and a lot of fun, too. I hope you've been able to see that in these stories from behind the scenes, and I know you can definitely see it on stage. It really is for you that they perform.
And we can't wait to see you and perform for you again soon!
In the meantime, please be safe and hang in there everybody!

Leeshai Lemish
Master of Ceremonies