Aloha! Shen Yun Gets Ready for Hawaii Shows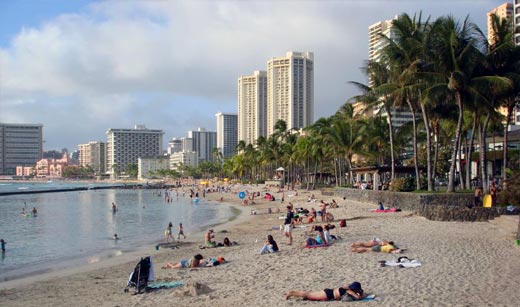 With our 2012 tour nearing its end, I've been wondering whether I have a favorite North American destination. At first, I really wasn't able to name a place. But with our fellow New York Company now approaching its final stop in Honolulu, I can't help reminiscing about my own former visits to Hawaii.
I've been lucky enough to perform on the paradise getaway twice. The first time was in 2008. Once past immigration, we were immediately greeted with smiles and lei from our local welcoming party. We stayed at Hilton's Grand Waikikian Suites, perfect for comfort and relaxation. Situated on the beach with magnificent views, we had the option of swimming amidst the waves, in the pool, or in the hotel's man-made lagoon. The hotel also had its own little shopping town full of souvenirs for us shopaholics.
Tropical Shopping
In 2010, we stayed closer to the bustling part of Waikiki. With the International Market and Kalakaua Avenue at the doorstep of the Miramar Hotel, we girls were in shoppers' dreamland.
I remember how our first activity on Oahu Island was a barbecue at the Fort DeRussy Beach Park neighboring our Hilton hotel. Our bus driver that first year was a Polynesian man with a great sense of humor. He introduced Kalakaua Avenue's boutiques as the "Oh my gosh shops," because when you look at the price, you say, "Oh my gosh."
Waikiki's main thoroughfare, Kalakaua, boasts many luxury hotels and brand name stores. Actually, having shopped all across America, Hawaii has become my preferred place for retail therapy. You can't help loving lower tax rates and astounding customer service. Although we were wearing T-shirts, board shorts, and flip-flops, and carried a healthy dose of sand in our hair, we were greeted with smiles at Prada, Tiffany's, and Gucci. Sales assistants answered all our queries with valuable advice.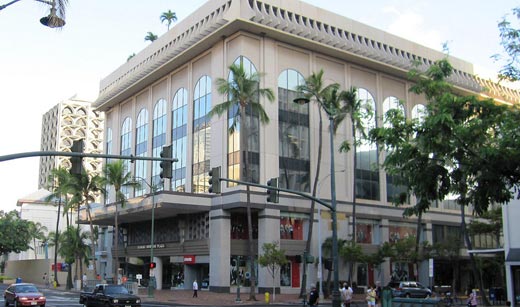 Another shopping bonus is that many stores (from LeSportsac to Chanel!) sell "Hawaiian Limited Edition" items, making them great places to get that unique souvenir.
Hawaiian Rituals
On our bus tour, we passed Diamond Head and, at the very western tip, witnessed huge waves crashing against the cliffs. Then we stopped by Hanauma Bay, famed for its nature preserve. Tourists flock there to snorkel face-to-face with colorful marine life. To preserve it, they only allow groups of 10 people or fewer, and so bus groups are prohibited. But during our second visit, we had a snorkeling outing by the Waikiki Marine Life Conservation District and caught glimpses of small fish and seahorses in the shallow waters.
We also went twice to Nu'uanu Pali. The first time, most of us were jet lagged and dead asleep on the bus. Only a few got off to view the valley from the windward cliff top and feel the extremely strong trade winds. It wasn't until my second visit when I learned about the Battle of Nu'uanu and appreciated the panoramic views of the sweeping green mountainside.
One of my Hawaiian rituals is swimming at night. As tanned Chinese dancers don't look so good on stage, I swim by moonlight. The water soaks up all the sunshine during the day, so it's nice and warm by night. The best spot I found was a bit off the main beach. I just love the soft white sand and playful waves.
Another of our Hawaiian-visit traditions is to watch the sunrise on the beach the day we leave. The first year, we got up when it was still pitch black, headed for the coastline, and waited. The sky began to lighten and beautiful pinks and oranges replaced the darkness. When the sky turned blue, we knew something was wrong. We turned around and realized we were on the wrong side of the island! Following an outburst of laughter, I threw my lei into the sea to bid farewell to the tropical paradise.
Two years later, we went to see the sunrise again despite the cool winds, and even dipped into the chilly water.
Although I'll be missing Honolulu this year, I'm sure our New York Company will have the best of fun in Hawaii!

2012年5月1日