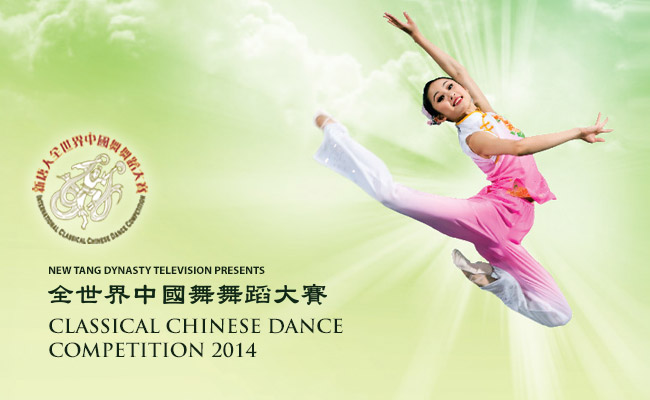 Shen Yun Dancers Join International Competition
It's an exciting week for the Shen Yun performers who will be participating in New Tang Dynasty Television's 6th International Classical Chinese Dance Competition. They will be joining over 100 contestants from around the world at New York's BMCC Tribeca Performing Arts Center October 10-12.
This competition is part of NTD's series of nine global contests. These aim to foster cultural exchange between East and West, as well as promote traditional Chinese culture and classical Western arts. Alongside competitions in Chinese martial arts and ancient Chinese couture are violin and classical piano competitions.
In the classical Chinese dance competition, contestants are categorized by gender and two age brackets, and will each perform two dance routines:
1) A required movements section, which focuses on authentic classical Chinese dance techniques. Dancers will be judged by their mastery of jumping, spinning, flipping, and control techniques.
2) An individual dance section, in which dancers display their creative and expressive talents. In this part, contestants often depict historical or literary characters, though some portray a mood or a theme.
Starting with NTD's inaugural dance competition in 2007, Shen Yun dancers have regularly appeared at the event. This year, previous winners take center stage again, competing against up-and-coming dancers from around the world.
"Every dance competition is an opportunity for me to challenge myself and to see how much I've improved compared to last time," says Shen Yun principal dancer William Li, who won second place in the adult male bracket in the 2012 competition. "So I don't miss the chance to participate."
For principal dancer Alison Chen, who took first place in the junior female division in 2010, the challenges are very real. "The process of experimentation without having any direct help—it's pretty hard. It's not just a technique combination where you can cut-and-paste random moves. You have to think of a different way to express something according to a storyline that you create."
After months of choreographing routines and refining their techniques, these dancers will finally be showcasing their efforts onstage. For those who will not have a chance to watch the dramatic performances live in New York, we will report the competition's results in a few days, complete with photos of the special costumes and aerial techniques.